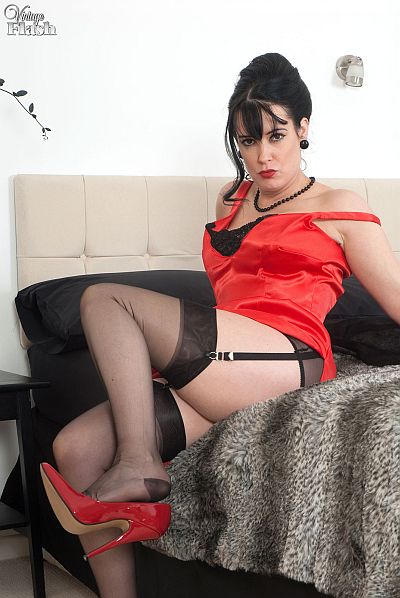 Tanya loves to look glamourous, dressing up for an film award show in a red satin evening dress, black lacy gloves, RHT nylon stockings and red patent leather heels, Tanya looks every bit a movie starlet.
Like all aspiring starlets, Tanya knows how to tease and please the director, and lifting her red satin dress to reveal her stockings and suspenders, she shows us her casting couch seduction technique.
'You know how much I like it when you rub your hand up and down my stockinged legs,' Tanya says seductively, tracing the contours of her shapely legs with her lace gloved hand.
'I love it when you touch the clasps of my suspender belt, and tease me by slipping your fingers inside the tops of my nylons', she adds, pushing the tips of her gloved fingers between the welt of her black nylon stockings and upper thigh.
'It makes me all horny when you slide your fingers up my stockinged legs and touch me here, on the most sensitive bit,' she says, moving her lacy gloved fingers over the bare naked flesh above the tops of her stockings.
Lifting her satin dress, Tanya stands with her pantied pussy close to your face, giving you a perfect view of her slit as she massages her clitoris through the sheer nylon fabric.
After stripping down to her black lingerie, stockings and suspenders, Tanya encourages you to get out your cock and stroke it while she masturbates on the bed.
Working her hand down the front of her see-through nylon knickers, she slaps her juicy wet pussy as she vigorously fingers her hot, sticky fuck hole.
Tanya then lays on her back, and pressing her nyloned feet together so they are wrapped around your cock, she encourages you to cum over her lovely nylon stockings.
See Tanya Cox masturbating in her stockings and suspenders in this (193 image) photo set and video – 'Sinner In Red Satin'.
Get our superb Vintage Flash newsletter each week - all the latest model info, updates, set preview pics and more!