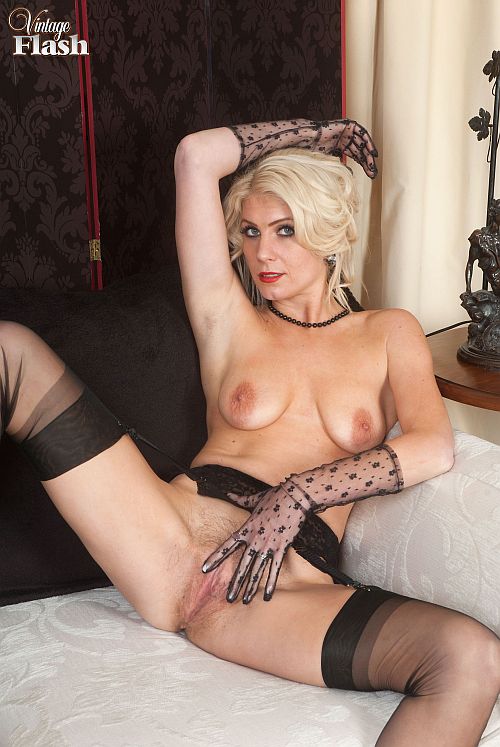 'Do you like my new outfit,' Bianca asked, as she lounged on the sofa wearing a sexy new dress and some slinky black RHT stockings and sexy heels. 'I knew you would and wore it especially for you, as I know you like seeing my legs in these sexy nylon stockings.'
Bianca ran her hands down her legs covered in sheer nylon, then stood and lifting the dress higher she moved her lace gloved hand over the pale flesh of her naked thigh and down her stockinged legs.
'I know how much you love seeing me wearing sexy black lace underwear,' she said, unzipping the dress and stripping it off to reveal she was wearing a black bra, suspenders and full-cut lace panties. 'I'd love you to get your cock out for me and start wanking it!'
Bianca lay back on the sofa and when she opened her legs and I could see wisps of pubic hair appearing out of the side of her panties as her hand caressed her pussy through the tight material of the pantie crotch.
'That's it you keep wanking your cock and get it nice and hard for me,' she said, then turned and got into a kneeling position and slowly pulled her panties down until they were stretched around her thighs. Her ass and pussy now fully exposed, she asked me if I'd like to fuck her really hard, adding, 'My pussy's getting so wet at the thought of your cock deep inside!'
Bianca removed her panties and laying back she spread the lips of her juicy cunt wide open with her lace gloved fingers and inserted a gold vibrator. 'Imagine your cock deep inside my pussy, ready to shoot your spunk right inside me,' she said, as she masturbated with one hand rubbing her clitoris while sliding the vibro in and out of her cunt that glistened with her juices.
Get our superb Vintage Flash newsletter each week - all the latest model info, updates, set preview pics and more!