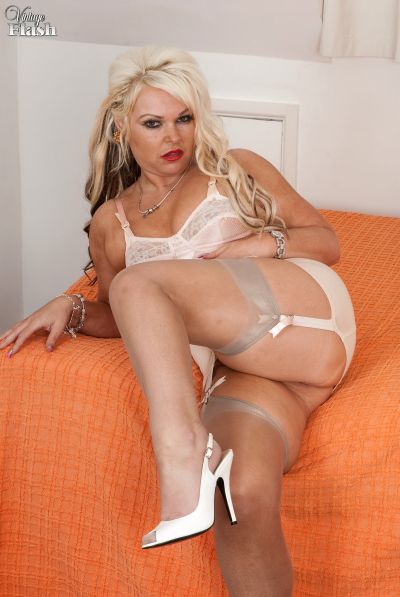 Candy had just returned from her walk in the park, where the feel of her sexy RHT nylon stockings against her legs as she walked along in her heels made her feel very horny.
'They feel so smooth and so sexy against my skin,' Candy purred, rubbing one stockinged leg against the other and making her stockings whisper with the sound of nylon on nylon.
Bending over her skirt pulled tight around her arse and she reached down to stroke her hand up and down her shapely leg; smoothing it over the sheer nylon from her ankle to the tops of her nylon stockings. Pulling up the hem of her tight skirt she playfully moved her fingers over the flesh of her bare thigh above the metal suspender clasp attached to her stockings.
Candy unbuttoned her top to show off her pink lacy bullet bra underneath, then unzipped her skirt to reveal she was wearing a girdle that fitted tightly around her buttocks. Removing her bra, Candy scooped her tits in her firm hands and licked her brown nipples with her lascivious pink tongue.
'That's it, wank your cock hard harder for me,' she said, lying on her side with one stockinged leg crossed over the other and her arse in full view. 'I'd love the feel of your cock deep inside my wet pussy fucking me really hard,' she continued, talking dirty as she pushed several fingers in and out of her hot her mature cunt.
Slipping off her heels she lifted up her stockinged feet, pushing and moving them together as if wanking a cock between the nyloned soles. 'Let me feel that cock with these nice nylons', Candy said, rubbing her feet together. 'Let me rub my feet up and down your cock and wank it hard for you!'
Candy lay back holding the lips of her pink pussy wide open and rubbed her hot clitoris, raising her arse off the bed and bucking her girdled hips as she reached an intense orgasm.
Get our superb Vintage Flash newsletter each week - all the latest model info, updates, set preview pics and more!