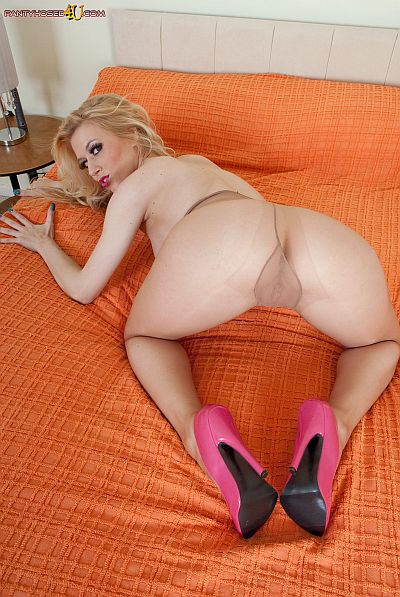 'I've got my pantyhose on and I'm ready for some party fun', Michelle says, her dress hitched up about her waist, showing off her long slender legs and pantyhosed ass. 'I love going out in my tights!'
Michelle is ready to party in her sheer, glossy nude pantyhose, and is loving the feel of the gossamer-like nylon hugging the contours of her shapely legs and ass.
Laying back on the bed she raises her legs and heels together and strokes her sexy, slinky legs sheathed in luxurious nylon. Then opening her legs she places her hand over the reinforced gusset, feeling the moist warmth of her pantyhosed pussy through the thin nylon encasing her snatch.
'I can feel my clit swelling up under there,' Michelle says, putting her hands down her pantyhose and stretching the front panel as she strokes her thighs and fingers her pussy.
Pushing her hands down the back of her tights, Michelle spreads the cheeks of her ass to give a view of her puckered ring through the sheer nylon rear of her hose. Then ripping open the crotch of her hose, she tears the thin nylon material to create a hole through which she can access her pussy and insert a buzzing vibrator.
Kneeling with her exposed ass in full view, Michelle slips the vibrator between the lips of her moist cunt and masturbates. With the vibrator inserted tightly in her fuckhole, she thrusts the object in and out until she climaxes in her torn pantyhose.
Get our superb Vintage Flash newsletter each week - all the latest model info, updates, set preview pics and more!