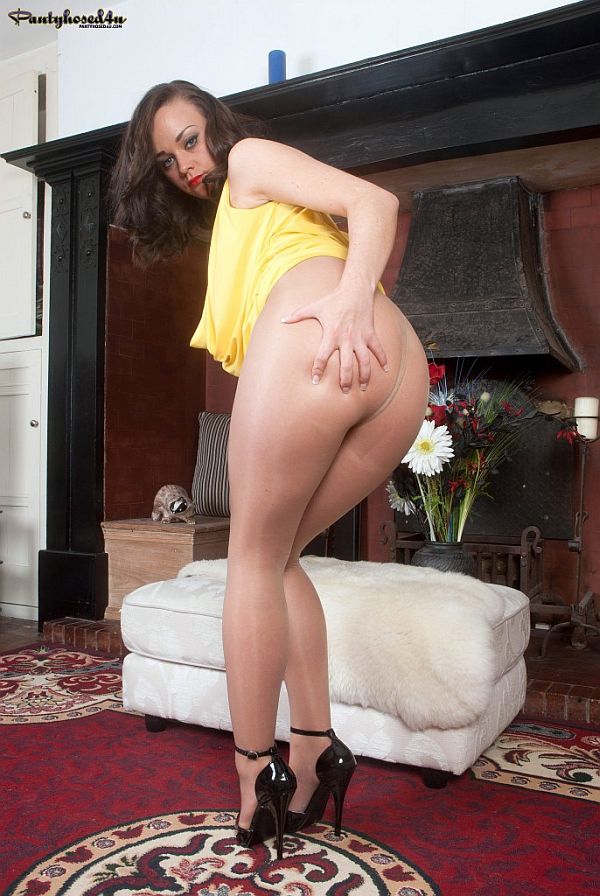 'Hi Honey. I've got all dressed up just for you, do you like my outfit?' Kelly asked, as she posed in her yellow party dress, sexy sheer nude pantyhose and patent leather stiletto heels. Turning on the spot to give me a complete view she then leaned forward and reaching down to her ankles drew her hand up the length her shapely legs sheathed in sheer nude pantyhose which shone in the bright light.
The dress barely covered her pantyhosed thighs and when she sat down I got a tantalizing glimpse of her naked pussy behind the sheer nylon of her pantyhose crotch. Kelly then lifted the dress over her head and uncovered her naked tits and the nude pantyhose which fitted high around her waist.
'I'd love to feel your tongue licking my nyloned pussy though my pantyhose, it makes me feel so wet,' she said, as she sat with her legs open and rubbed her moist pussy through the tight nylon crotch.
I came in close for a view of her fingers pressing the sheer nylon against the compressed lips of her cunt and teasing her clit through the tight mesh of her hose. She gasped with mounting pleasure as she moved her hand over the mound of her pantyhosed pussy and throwing back her head she reached her first orgasm.
Kelly then slipped her hand down the front of her pantyhose and splayed the lips of her cunt and showed her pink slit behind the sheer nylon screen. Her hand moved under the front of her stretchy nylon hose and her fingers circled the hot button of her erect clitoris as she lay back and masturbated to her second pantyhose orgasm.
Kelly poked her fingers through the taut nylon of her pantyhose crotch and opened a hole in the delicate nylon which framed the mound of her shaved pussy. Then inserting a pink vibrator between the fleshy lips of her cunt she thrust the vibro deep inside her moist fuck hole and masturbated to her third climax in her torn nylon pantyhose.
Get our superb Vintage Flash newsletter each week - all the latest model info, updates, set preview pics and more!