Roxy doesn't mind you admiring how she looks in her attractive retro-attire – tight-pencil skirt, stockings and stiletto heels. Posing on the leather sofa, she strips and plays with her naked boobs, pulling aside her panties to get at her juicy pussy and frig herself off.
'Well, I was going to got out, but maybe I should stay in after all, as I quite enjoy teasing you.' Roxy gave one of her saucy smiles and pulled up her skirt and ran her hand over her thighs and metal garter-clasps affixed to the tops of her stockings. 'Oh, you like the seams, do you? Me too!' she said, stretching out her legs along the length of the sofa and pulling the skirt up to show the back of her legs in their fully-fashioned nylons and stiletto heels.
Roxy stood and unzipped the back of her skirt, giving her ass a little wiggle as she let it slide down to reveal her white garter-belt and sheer nylon panties.
'These are naughty, aren't they?' She looked down as she pulled up the panties so the crotch stretched tight around her pussy. 'Do you like my panties from the back? Look how silky and sheer they are,' she said, turning and placing her hands over the cheeks of her arse, sheathed in their layer of white nylon.
Roxy stripped off her blouse and bra, exposing the smooth flesh of her perfectly shaped boobs and pierced nipples, then sat on the sofa and caressed her legs in their seamed nylon stockings. Opening her legs, she pulled aside the crotch of her panties and ran her fingers over the juicy lips of her shaved pussy.
'Well, I was going to got out, but maybe I should stay in after all, as I quite enjoy teasing you,' she smiled mischievously, pulling the crotch of her panties tight between the lips of her cunt and rubbing her fingers over the smooth mound of her shaved pussy. 'We could have some fun, couldn't we?'
Roxy got on her knees and lifted her ass so the suspenders stretched around her buttocks and strained on her stocking tops. She pulled aside the panties once more and thrust her fingers up her tight snatch, which made wet sounds as she openly masturbated in her sexy seamed nylons and stiletto heels.
*********************************
Watch or download all of Roxy's lingerie, stockings and pantyhose videos at NHLP Central

Get our superb Vintage Flash newsletter each week - all the latest model info, updates, set preview pics and more!
NEW SERVICE FOR ALL SMART PHONE USING NYLONS LOVERS!
Text Nat here to get all her pics sent to your phone!
JUST TEXT 'WHITESEAMS' TO 69666
Phone fun day or night!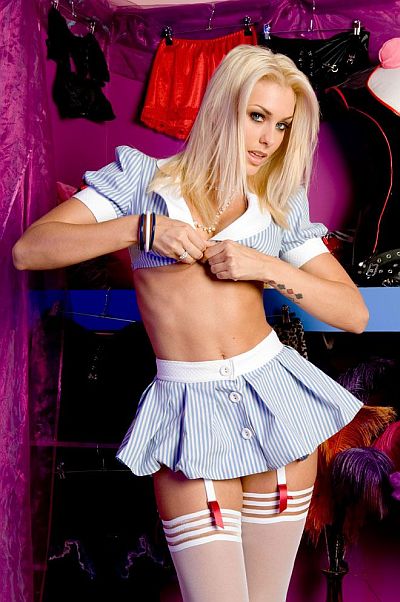 Terms & Conditions (Max 3x £1.50 per msg sent) help: 03333356970 PNP MEDIA - 2 STOP txt STOP
.......................................................................................................