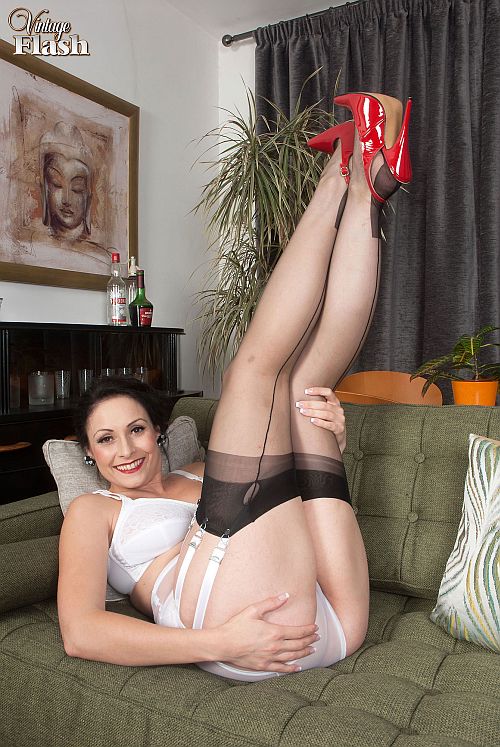 Mistress Sophia catches you reading a magazine but requires your full attention as she has other ideas with which to amuse and keep you entertained.
Playing with her garter-straps she invites you to get your cock out and show how much you appreciate your stockinged Mistress in her seamed black nylons and red stiletto heels. 'If I see you rubbing that cock, I might just have to play with myself,' Sophia says promisingly, spreading her legs wide and offering views of her pantie crotch through which the lips of her hot pussy can be seen through the white, sheer nylon fabric.
'Can you see my pussy though my panties,' she asks, circling her fingers over the tight nylon crotch and rubbing the fleshy lips of her cunt through the flimsy material. 'My sexy see-through underwear with my tight, wet pussy inside. I bet you'd like to get your cock up me!'
Sophia strips out of her dress and standing up close she pulls aside her panties and spreads her cunt with her fingers. 'That's it, you keep rubbing your cock and think about putting it in there,' she says, inviting you to enjoy her cunt which she holds open wide, nice and juicy. 'I wouldn't even have to take my knickers off, would I? You could just slip your cock inside me and fuck my tight cunt.'
Removing her bra Sophia plays with her voluptuous all natural tits, pushing and kneading them together in her hands. Then kneeling on the sofa she tugs her panties over her ass cheeks and down her legs. 'You rub that cock nice and hard, then you come and fuck me,' she says, spreading the hot lips of her luscious cunt wide open with two fingers. 'I want you to fuck me until I cum over your cock and feel it pulsing inside me!'
Sophia's white suspenders stretch over her buttocks and around her thighs to the tops of her black, seamed nylon stockings as she reaches between her legs and rubs her clitoris, urging you to get behind and give her a fuck with your hard cock.
Get our superb Vintage Flash newsletter each week - all the latest model info, updates, set preview pics and more!