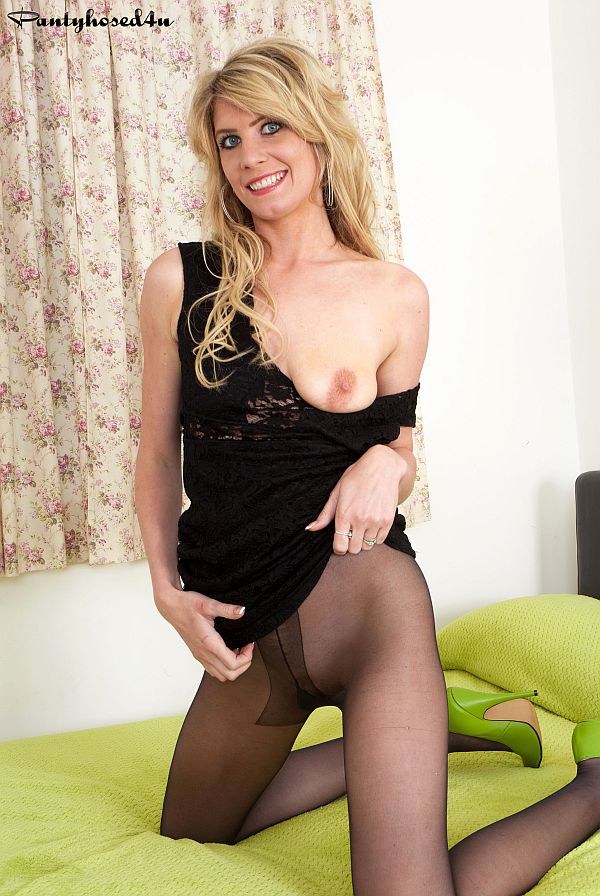 'Hey, there sexy, I'm feeling really kinky in my very naughty pantyhose,' Bianca says, as she stretches out on the bed and runs her hands up her legs clad in black sheer nylon. 'I just the love the feel of nylon pantyhose, they feel so silky and smooth. It really turns me on just running my hands up and down my legs.'
Bianca lays back and slowly drags her fingers up from ankles to thighs, then sweeps her hands back over her knee as she admires her legs in clingy nylon hose.
'As you can see I'm wearing a very short black dress and I'm not wearing any panties,' says our saucy bitch, pulling her dress up higher to reveal she is sans panties under her sheer nylon pantyhose. 'That's because I love the feel of the gusset right up against my pussy,' she adds, rubbing her fingers in the crack of her ass sheathed in tight, black nylon.
As Bianca draws her hands up her long legs, she encourages you to take out your cock and start playing with it while she rubs her pussy through her pantyhose crotch and makes it nice and wet.
'I bet you'd love to rub your cock against my pussy through the nylon,' she says suggestively, as she massages her cunt through the tight nylon gusset. 'If you get excited enough, I'll let you spunk all over my nylon pantyhose, so keep wanking that cock nice and hard for me.'
Bianca strips out of her dress and pulls the waist of her pantyhose right up her front so they are stretched tight around her nyloned cunt and over her tits at the same time. She then pulls the nylon crotch even tighter around her pussy, grinding her hips as she rubs her clit through the semi-sheer gusset patch that circles her moist cunt.
Getting on her knees she tilts her arse up and rips a wide hole in the seat of her pantyhose, causing the nylon to ladder down her thighs as she tears it open and exposes the flesh of her buttocks.
The dirty bitch then slips several fingers between the juicy lips of her pussy, stirring them inside her creamy cunt hole as she encourages you to spunk all over her body in her ripped nylon pantyhose.
Get our superb Vintage Flash newsletter each week - all the latest model info, updates, set preview pics and more!