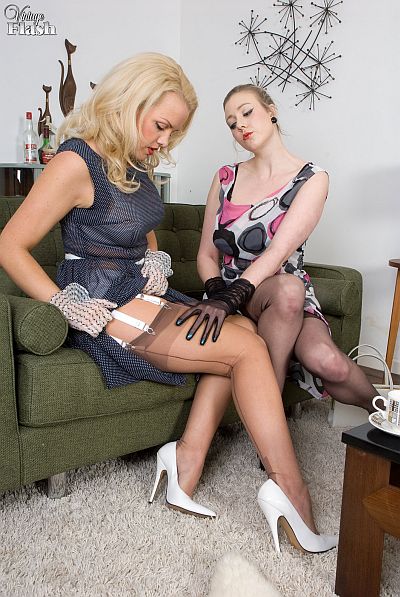 Frankie and Sapphire relax with a nice cup of tea after arriving back from a girlie shopping spree for clothes, lingerie and heels.
As the ladies chat, the conversation turns to their nylon stockings, which they are both fond of wearing under their summer dresses.
Frankie describes how she loves the feel of her nylons against her legs, and confesses when she gets turned on she puts her hands between her thighs to masturbate.
Sapphire's curiosity is aroused by her friend's admission, and looks on as Frankie pulls up her dress to reveal the white straps of her garter-belt, contrasting against the tan color of her nylon stockings tops.
Sapphire gently caresses Frankie's stockinged legs, arousing feelings of mutual desire as she smooths her gloved hands over her friend's nylon covered thighs and knees.
When Frankie extends one leg upwards, Sapphire runs her tongue all the way up the backseam of her stockinged leg, from the welt to the reinforced heel.
Both ladies undress to admire and appreciate each other's stockinged legs, and Frankie gives Sapphire a little foot massage by rubbing the sole of her stockinged feet.
Excited by their stocking play, our sexy ladies pull down their knickers and indulge in a prolonged session of finger fucking, cunt licking and mutual masturbation.
Get our superb Vintage Flash newsletter each week - all the latest model info, updates, set preview pics and more!