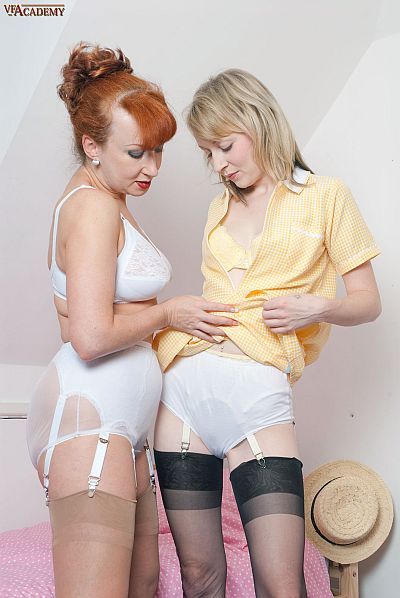 Kiana is a boarder at VF Academy with her own room, and Ms Rouge pays her a visit to see how she is settling in.
Kiana lets her teacher know she gets a bit lonely having a room to herself, and Ms Rouge agrees it's good to have company.
As Ms. Rouge likes to see her girls are happy, she lets Kiana know she's there for her in more ways than one.
Kiana takes the hint and starts unbuttoning Ms Rouge's blouse, then uses her hand to rub her teacher's cunt through her sheer nylon panties.
Both teacher and pupil become aroused, and a very interesting lesbian situation develops between these two nylon stockinged and suspendered hotties.
Having seduced and undressed each other, Ms Rouge and Kiana finally relieve their sexual tensions using tongues and mouths.
See Ms Rouge and Kiana pantie playing and cunt licking in this (230 image) photo set and full length movie 'The Advantage Of Boarding' at VF Academy.
Get our superb Vintage Flash newsletter each week - all the latest model info, updates, set preview pics and more!