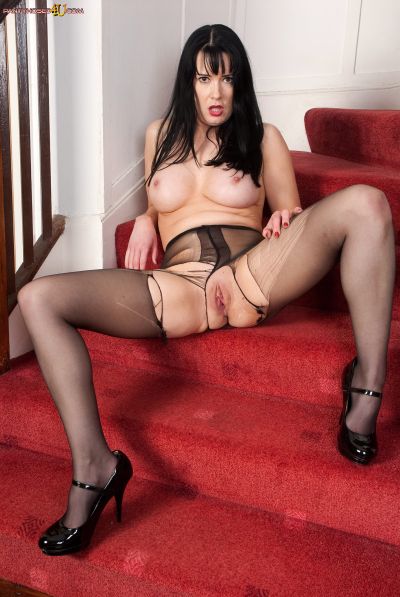 Tanya was ready to go out clubbing dressed in her tight black dress, but noticing how I was turned on by the sight of her legs in sheer nylon pantyhose she decided to put on a sexy show instead.
'I knew you'd change your mind when you saw me going out in these,' Tanya remarked, standing on the staircase so I could see right up her dress, where it was apparent that she wasn't wearing any panties under the layer of slick nylon hose that covered her pussy.
'I did have a little play with myself upstairs while you were down here waiting, so I'm already wet!" she confessed, sitting on the lower stair so I could get and upskirt view of her snatch behind the tight, nylon screen that encased her pussy.
Pulling her dress up a bit higher she rubbed her pussy through her pantyhosed crotch to get me even more excited. She then crossed her legs and extending them outwards, drawing her hands upwards from the ankles, which made a swishing sound as they came in contact with the sexy black nylon.
Tanya removed her dress and spreading her legs to give me a better view, she pushed her hands down the front of her tights to massage the lips of her juicy cunt.
Her fingernails suddenly ripped into the fabric of her hose and she began to tear them open, laddering her tights as she created a hole through which she could access her hot cunt. I watched as she slapped her pussy and inserted two, then three fingers inside her lubricated fuck hole, which made sticky wet sounds as she frigged herself off.
Turning around she knelt on the stair and ripped out the rear of her pantyhose, tearing the strands of broken nylon over the the globes of her fleshy buttocks. Then she resumed masturbating by slotting her fingers up her wet cunt, and reached round to stick two fingers up her ass while she fucked herself to orgasm.
Get our superb Vintage Flash newsletter each week - all the latest model info, updates, set preview pics and more!