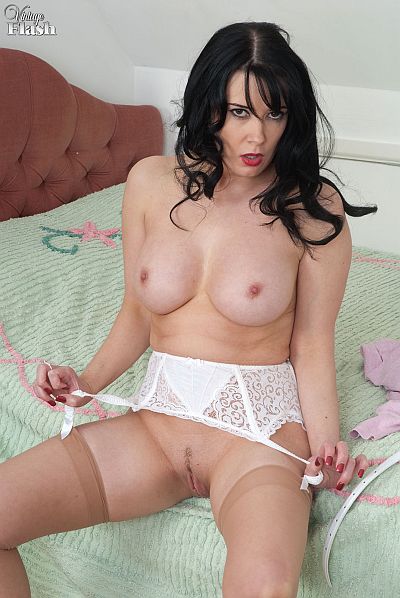 'Well, I'm so glad you could join me, sat here in my very beautiful full-fashioned nylon stockings,' said Tanya, looking very sexy in her pink top, pencil skirt and white leather heels as she sat on the edge of the bed.
Tanya was evidently in an excited mood as she described what she was wearing, running her hands over her clothed body, and bending in that tight skirt to stroke her lovely nyloned legs.
Teasing at first, Tanya gave tantalizing glimpses of the 'V' shape of her pantie crotch underneath her skirt, as well as the saucy suspender straps attached to the tops of her tan stockings.
Standing, she hiked her skirt up around her hips, and I got in close to view her hand rubbing the front of her sheer nylon panties, through which I could clear see the slit of her moist pussy.
'Feels nice and wet in there,' she said, as she stood above me, grinding her hips and massaging her fingers into her damp pantie crotch, which was only a few inches away from where I was kneeling with my video camera.
Rewarding my patience, Tanya finally took off her top and skirt to reveal her vintage satin bra, suspender belt and full cut panties, which she then removed and to lick her juices off the nylon crotch.
Spreading her legs as she lay back on the bed, Tanya slipped her fingers up her sopping wet cunt, which was so juicy her fingers made liquid sounds as she frigged herself off and climaxed loudly.
See Tanya Cox teasing and masturbating in her stockings in her (202 image) photo set and full length movie – 'Cum Join Me' at Vintage Flash.
Get our superb Vintage Flash newsletter each week - all the latest model info, updates, set preview pics and more!