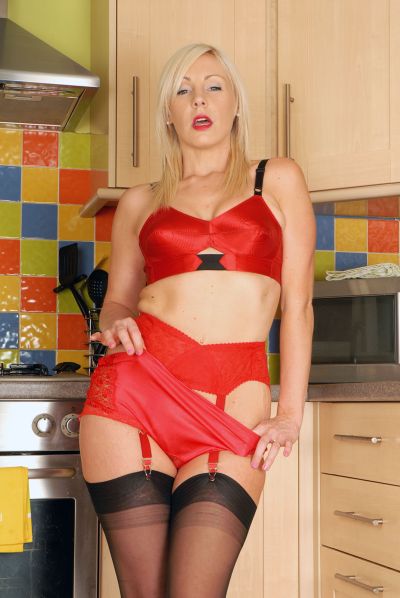 Clair Lou stripteases in her nylons and panties, then masturbates on the kitchen floor in this movie from Vintage Flash.
Clair Lou had just back from a shopping trip for some clothes and lingerie, and was feeling very horny the day I shot this video.
She had seen a really fit looking guy while she was out, who she'd noticed looking at her legs. Of course, she didn't mind one bit, especially as he was good looking.
In truth Clair Lou loves the attention she gets whenever men take an interest in her legs. Which is why she likes to dress in stockings and heels whenever she goes into town, just to see the effect it has on the male population.
Knowing that she has been the cause of some stiffness in the trouser region gets her all excited, which was just the mood she was in when we caught her that afternoon.
Clair Lou turned up looking very glamorous, wearing  a checkered top, tight satin skirt, black stockings and red heels. Small wonder she'd turned heads!
Once I'd set the Cam to record, Clair Lou was showing me her arse in that tight skirt, moving it from side to side, real sexy!
Then she removed her top and skirt to reveal she was wearing a red satin bullet bra, matching garter belt, outrageous sheer crotch nylon panties, and genuine French vintage RHT's nylons she'd bought off Ebay.
The sight of Clair Lou's cunt behind the tight see-through panel of her panties was definitely worth a close up. I got down and got a nice shot of her lovely quim as she rubbed the nylon mesh with her fingers.
She then turned around for a rear view and started wiggling her arse from side to side. Then ever so slowly she peeled off her panties, sliding them down her legs until they were around her ankles, finally stepping out of them.  What a tease!
Then she got down on the kitchen floor and pulled open her cunt so I could get a good view as she put on an explicit masturbation show.
Get the best seat in the house… watch Clair Lou fingering herself in close up in this rauncy striptease and masturbation Vintage Flash Movie.
Get our superb Vintage Flash newsletter each week - all the latest model info, updates, set preview pics and more!