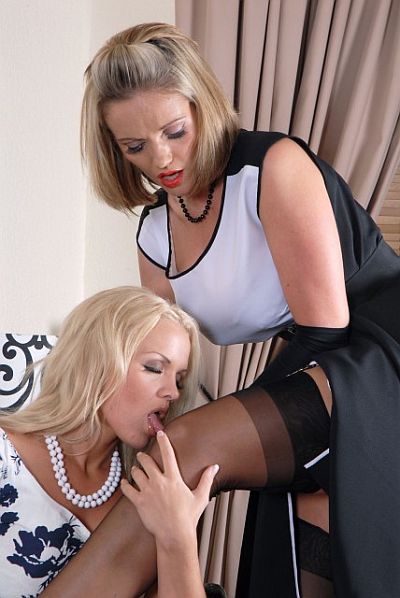 These two elegant ladies, dressed in their finest clothes and seamed nylon stockings, have a lot of fun together in our latest sexy stockings movie from Vintage Flash.
Lucy and Frankie enjoy each others company, especially when they are dressed up in their finest clothes, nylons and heels. Together, they run their hands over each others' stockinged legs, feeling them up and admiring their lovely nylons.
Lucy licks Frankie's leg and strokes them with her hands covered in her black opera gloves. 'I like it when you lick my leg', says Frankie, '..feels warm, wet…feels really nice'.
Lucy then helps Frankie out of her dress, revealing her lingerie corset with thin garter straps that stretches right down to where they are attached to her seamed nylons.
The girls briefly kiss and Lucy moves her hands over Frankie's exposed ass, stroking the backs of her thighs and stockinged legs with the tips of her finger nails.
Both ladies become aroused by their actions, and opening her thighs Frankie has no problem when she suggests that Lucy go down on her. Lucy puts her head down and immediately starts licking Frankie's shaven cunt, her tongue rapidly darting, flicking over Frankie's exposed labia.
Lucy continues to excite her friend, caressing her nipples and thighs, while Frankie diddles a finger over her own clitoris. Together their breathing becomes ever more excited as they indulge in their passionate lesbian lust.
Lucy then removes her dress and reveals she is wearing a black satin corset that supports and pushes up her huge breasts. Frankie gets to work on Lucy's huge norks, scooping out those fleshy globes from the cups of Lucy's black satin corset, and nibbling on her friend's fabulous teats.
Both ladies then sensually remove and exchange stockings and put them on their own legs. As they exchange each others' stockings they sniff them, savoring their friend's sexy perfume, then rubbing the removed stockings over their cunts before rolling them up and over their own legs.
Both ladies end the session with masturbation and licking their cunts in a 69 nine position.
This a sensual legs sex movie with lots of leg stroking, nylon appreciation, masturbation and lesbian cunnilingus. Download the pic set and full-length movie here at Vintage Flash.
Get our superb Vintage Flash newsletter each week - all the latest model info, updates, set preview pics and more!