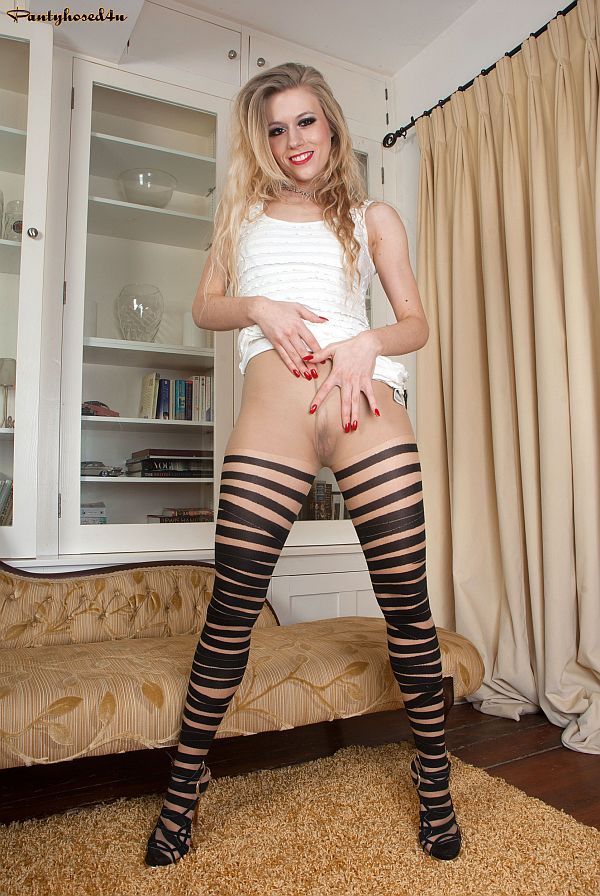 Michelle was off to a party and wondered if I thought her classy micro bandage dress was a bit too short to wear with her striped designer pantyhose, as they had a sheer crotch and her pussy could easily be seen if she wasn't careful.
Kneeling with one leg on the chaise-longue and the other extended outward to the floor, she leaned forward to show just how revealing her dress could be when it lifted up at the back. Then she pulled up her tight dress over the cheeks of her pantyhosed ass, revealing the sheer nylon crotch of her tights, though which the lips of her lovely cunt and short wisps of pubic hair could clearly be seen.
'I've just noticed the most outrageous cameltoe opportunity,' Michelle exclaimed, now sitting with her legs open while stretching her pantyhose upwards to that they were pulled tight around her cunt. Her cameltoe made her excited and she rubbed her fingers over the taut nylon groove of her pantyhosed cunt, then pushed her hand down the front of her tights and fingered the moist slit of her gaping sex.
Michelle changed position and kneeling once more she presented her arse in tight nylon, then flexed the muscles so that her tight buns moved up and down inside the clingy nylon that encased her fabulous buttocks. She then stripped off her dress and stretched her pantyhose right up her front, pulling it right over her tits and rubbing the taut nylon mesh against her nipples and squeezing her boobs together.
Sitting back on the chaise-longue she opened her legs and pushed her hand down her hose to open the lips of her pink snatch so it showed through the sheer nylon crotch. She then vigorously rubbed her cunt through the tight nylon layer, pressing her fingers against the lips of her pussy which were squished behind the nylon screen in the front of her pantyhose.
Get our superb Vintage Flash newsletter each week - all the latest model info, updates, set preview pics and more!