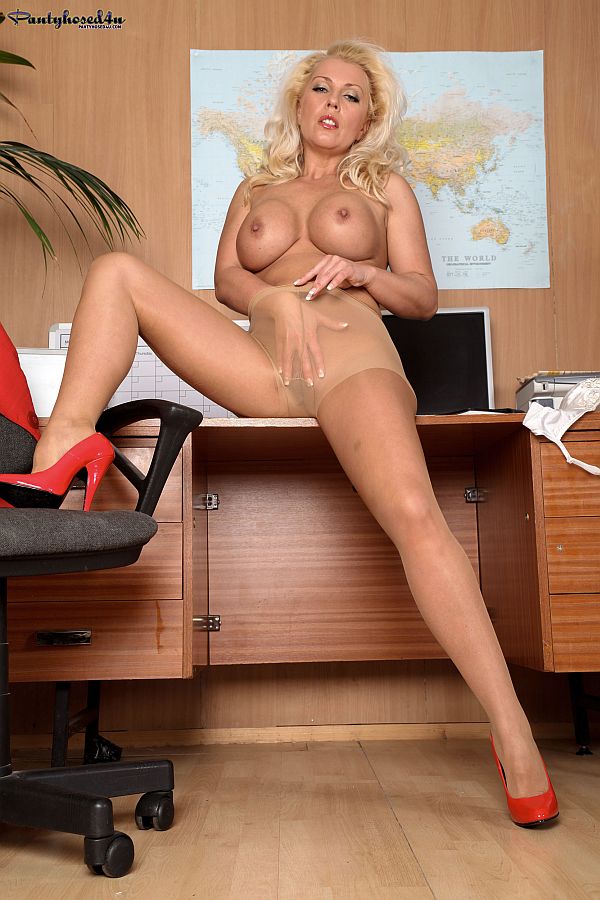 Horny blonde secretary Lana is busy working in her office, but when you arrive for your meeting with her she immediately begins to turn on the charm and indulge in a little flirtation.
'I can see you admiring my legs and I bet you are wondering what I am wearing,' Lana says, as she sits with her legs crossed, so you almost see up her short skirt. 'Will it be sheer nylon stockings or maybe it's pantyhose,' she adds, drawing attention to her legs sheathed in sheer, shiny nylon, brushing one leg against the other in a very seductive manner.
'I wondered what it is that you'd prefer, but I think I've seen you around the office enough to know, that you absolutely adore pantyhose,' Lana concludes, reaching down to her ankles and dragging her fingertips lightly over the surface of her shiny, nylon pantyhose. 'You know what, I also adore pantyhose. I just love the way they feel, running my fingers over them and feeling the silky smoothness, it feels so good.'
Rubbing her silken legs against each other she dangles one heel from her toes, then slips them off for a close-up view of pretty feet encased in delicate nylon hose, before slipping her shoe back over her foot and standing up.
Leaning against the desk she eases up her tight skirt to show she is not wearing any panties under her pantyhose, then stripping out of her sexy office attire she lowers her skirt down her long, legs to her heels and steps out of it. Then turning to give a rear view, she displays her shapely legs as she sways on her heels and moves fabulous arse encased in tight, fitting sheer nylon.
Removing her bra she lies on top of the desk and rubs her finger over the slit of her moist pussy through the close fitting nylon that covers her cunt. Lana then rips a small oval hole in the crotch and fingers her hot cunt through the nylon opening that frames the lips of her luscious pussy.
'Oh, it feels so good inside my warm, wet pussy,' Lana says, as her fingers slip inside the lubricated hole of her exposed cunt through the sexy hole in the crotch of her tights, her hands slapping against the wet lips of her snatch as she masturbates to orgasm in her delicious nylon pantyhose.
Get our superb Vintage Flash newsletter each week - all the latest model info, updates, set preview pics and more!