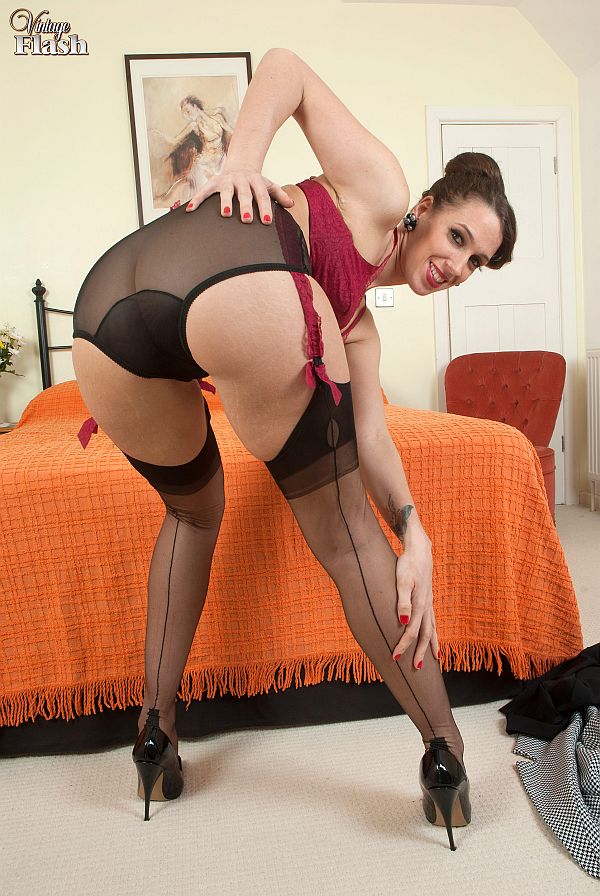 Tammy arrived home from work at the office and I was there to greet her because I knew she was wearing black, fully fashioned nylon stockings and heels.
'You missed me this morning didn't you, after I screamed on the way out of the door that I had my stockings on,' Tammy said, reaching down to her ankles and dragging her fingers all the way up the back of her seamed stockinged leg. 'So I guess, you're in a very kinky mood tonight, sweetheart.'
Understanding just how much I enjoy looking at her long, shapely legs in sexy seamed nylons, she offered to do a striptease for me as long as I promised to buy her a new handbag…
Tammy began by turning around to lift the back of her tight pencil skirt and give a view of her legs in their fully-fashioned stockings and suspenders attached to the tops of her nylons. She then climbed onto the bed and lay sideways to open her legs so I could see she was wearing black, nylon panties that fitted tightly around the area of her crotch.
'That's it, you take a good look at your wife and run your hands all over my stockings,' she suggested, now sitting on the edge of the bed and giving me a close up view of her cunt, which I could see through the front of her sheer, nylon panties.
Tammy stripped off her jacket to reveal she was wearing a purple bra that match her suspender belt, then lay on the bed and pulled up her skirt to offer a view of her sumptuous arse encased in the sheer nylon of her panties.
'That's a good boy, you stroke your cock like that, while thinking about my nylon stockings rubbing all over you,' she said, as her hands caressed the back of her long, tapering legs in their black seamed nylons and shiny, patent leather heels.
Get our superb Vintage Flash newsletter each week - all the latest model info, updates, set preview pics and more!