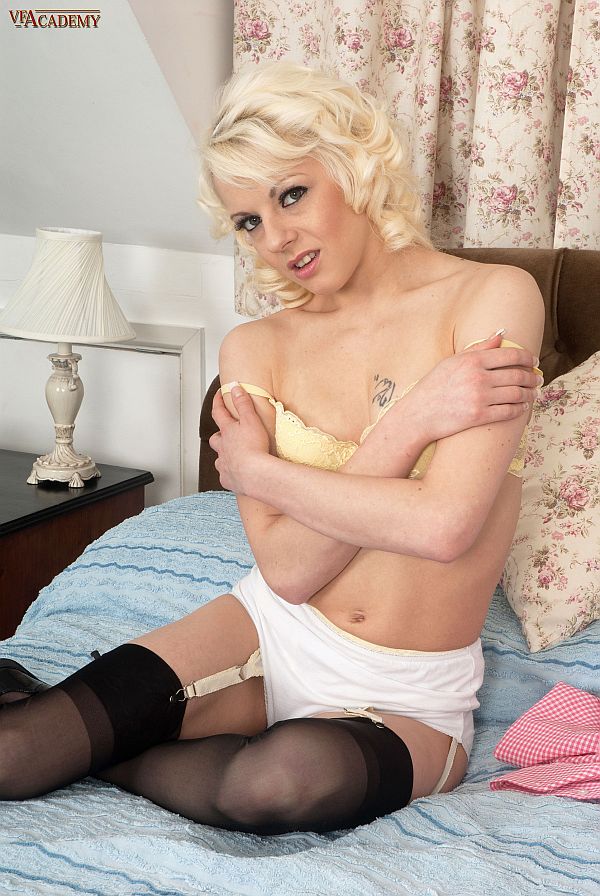 April had never had a mans cock inside her before, so she borrowed Michelle's dildo to find out what it might be like. Having enjoyed the experience she told her friends, but as you know girls can't keep a secret for long the rumors spread thought the academy, so we paid her a visit to find out it if was true.
'Michelle said her dildo felt just like a real one so I kind of pinched it,' April admitted and giggled, as she sat on the bed caressing her slender legs in their black nylon stockings and heels.
April agreed to let us watch how she masturbates, as long as we promised not to tell anyone and get her in trouble.  She then sat with her stockinged legs spread and slipped her fingers under her white cotton panties to give her pussy a rub.
'I think I'm getting a bit excited,' April giggled, her suspenders pulling on the tops of her nylon stockings as she moved her hands under the front of her tight,white panties.
Stripping out of her uniform she removed her bra and strummed the points of her erect nipples with her fingers. Then getting into a kneeling position so her ass was tilted upwards, she pushed her hand down the rear of her panties and massaged her pussy.
April slowly pulled her panties down her slender legs in black nylon and tugged them over her heels, then laying back she spread the lips of her cunt and rubbed her clitoris with circular motions of her hand.
She slipped her fingers inside her tight hole and stirred them around to get her juices flowing. Then inserting her vibrator between the lips of her fleshy cunt, she plunged it deep inside her teenage pussy and masturbated to orgasm.
Get our superb Vintage Flash newsletter each week - all the latest model info, updates, set preview pics and more!