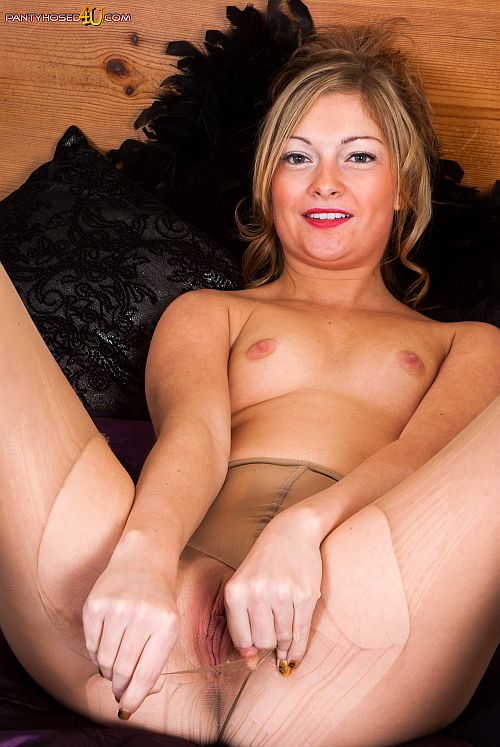 'Hi, I'm Melodii and today I'm going to be your pantyhosed slut,' Melodi said, as she lay on the bed and lifted up her mini-dress to show she was wearing some skintone sheer pantyhose with no panties.
'I love wearing pantyhose and sometimes when I'm walking down the street I purposely drop something, so I have to bend over and pick it up,' she said with a naughty grin, bending over to show off her nyloned butt cheeks just below the hem of her short dress. 'I love how they feel against my pussy and how they fit tight around my arse' she added, moving her hands over her pert buttocks tightly encased in sexy nylon.
Melodii stood up close and pulled the pantyhose up her waist so they were stretched tight around her naked pussy, her fingers massaging the mound of her pubis behind the tight, sheer nylon of her tights.
'Keep wanking off that hard cock!' Melodii encouraged, as she sat back on the bed with her legs spread wide open; rubbing the fleshy lips of her naked cunt, which were compressed behind the nylon of her pantyhosed crotch. 'I love the way they feel against my wet pussy.'
Melodii removed her dress and bra, uncovering her teeny, tiny tits and lay back on the bed to get more comfortable, then pushed her hand down the front of her pantyhose and tweaked the nipples between her fingers as she masturbated.
Getting on her knees she continued to masturbate with her hand down her hose, her pussy making audible sticky sounds as she finger fucked her slippery hole. Then she ripped open the crotch and tore into the taut nylon with her fingernails to get at her hot, throbbing cunt, spreading the pink lips of her labia which glistened with her juices.
Melodii continued to finger fuck her pussy while getting into several positions, then inserting a vibrator between the tight lips of her cunt, she thrust it in deep and fucked herself with it until she orgasmed in her ripped nylon pantyhose.
Get our superb Vintage Flash newsletter each week - all the latest model info, updates, set preview pics and more!