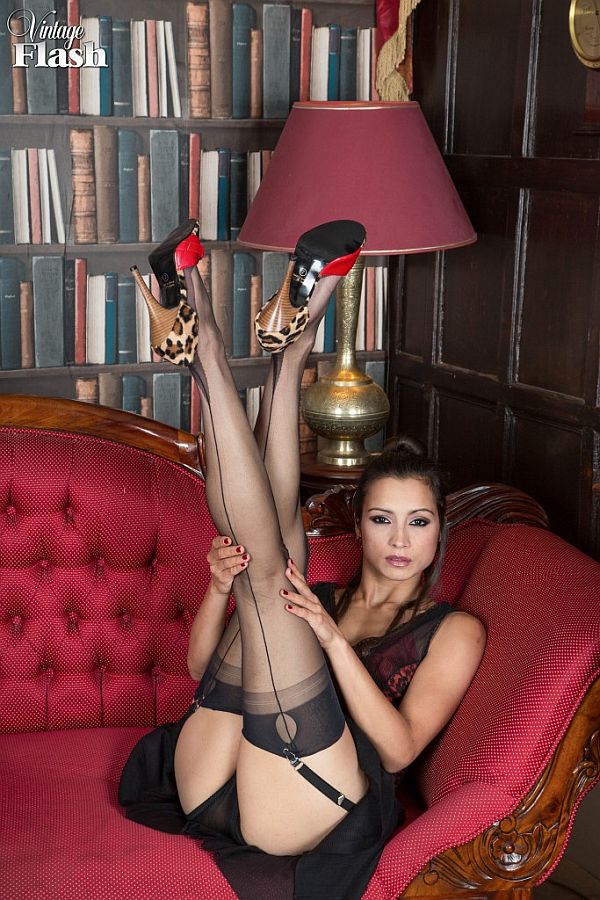 It's time to slip into the library and enjoy a relaxing encounter with the delectable Chelsea French, who is wearing some very fetching lingerie, stockings and heels for your pleasure…
'Today I'm wearing a very nice, vintage slip and love the way it makes me feel so sexy as it slides against my body,' Chelsea said, flaunting herself in the red and black lace slip, which she lifted to reveal her black suspenders, attached to the tops of her nylon stockings. She leaned forward to caress her slender legs, drawing her hands over the surface of her black stockings, smoothing the nylon up from her ankles and to her suspendered thighs.
'I love feeling my tits through my sexy, vintage bra,' Chelsea said, having stripped off her slip to reveal she was wearing a red, shiny satin bullet bra. Smiling with sensual delight, she placed her hands around the pointed cones of the cups, then paraded in her black suspender belt and sheer nylon panties that clung to the cheeks of her arse.
Chelsea slipped the straps of the bra over her shoulders, then reached behind her back to release the eye-hooks and strip it away from her chest. Her hands moved sensually as she fondled the softness of her petite, all natural tits and brushed her slender fingers over the points of her erect, brown nipples.
'I'd love to feel your hands running down my legs, covered in these stylish nylon stockings,' Chelsea purred, as she reclined on the couch and ran her hands over her extended legs, conspicuously fluanting her feet in their sexy, open toe heels.
Spreading her legs, she slipped her hand down the inside of her knickers, moving it under her stretchy nylon as she massaged her hot, moist pussy. Then hooking her thumbs into the elastic of her panties, she lifted her ass off the couch and slid them slowly down her stockinged legs and over her heels.
'Watch me spread my legs wide open as you run your hands over my horny stockings,' Chelsea said, opening her legs in their seamed nylons and sliding her fingers over the wet lips of her luscious cunt hole. 'I want you to bend me over, spread my arse cheeks and pull on my suspender belt, as I rub my sexy, little pussy for you.'
Get our superb Vintage Flash newsletter each week - all the latest model info, updates, set preview pics and more!