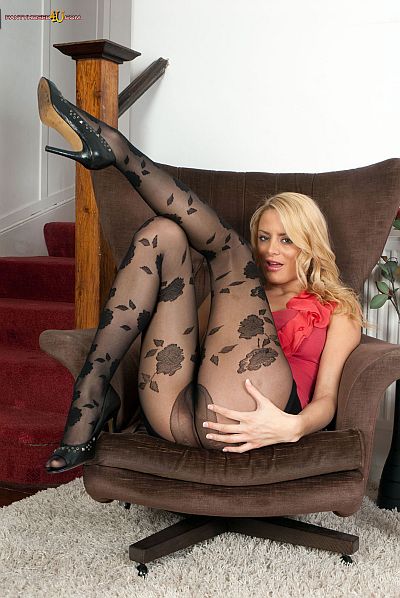 Bubbly blonde Aussie babe Chloe Conrad simply loves to pose and tease, and was keen to show off the fancy black pantyhose she'd bought recently.
Her floral patterned fashioned hose looked perfect on her long lithe legs, as she sat in the chair describing how sexy they felt against her skin.
Hiking up her black micro skirt, Chloe turned to give a view of her ass, and show me how delicious her pert buttocks looked encased in tight nylon.
Kicking off one shoe, Chloe then let me get a close up view as she massaged her pretty hosed feet and toes.
Then kneeling on the rug with her shiny black heels tucked under her, Chloe teased me with more views of pantyhosed ass raised up and in full view.
I watched intently as she then sat back in her chair with legs open, rubbing the slit her naked pussy through the front of her patterned nylon tights.
Chloe then dug in her sharp fingernails and forcefully ripped the arse out of her fancy pantyhose, exposing the puckered ring of her butthole and the soft lips of her pretty pussy.
With the tattered shreds of her lovely hose wrapped around the globes of her ass, Chole slipped her fingers into her moist sex hole and gave her pussy a proper seeing too!
See Chloe masturbating in pantyhose in this in this (119 image) photo set and video – 'Fancy Hose Down To Her Toes' at Pantyhosed 4U.
Get our superb Vintage Flash newsletter each week - all the latest model info, updates, set preview pics and more!