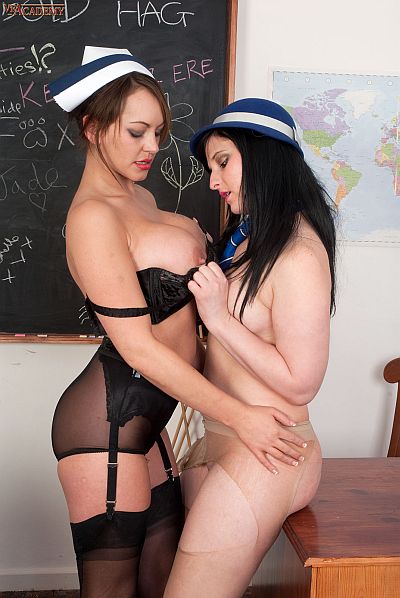 Academy students have to be thoroughly checked out every year, and skiving off on medical day, will get you a much more thorough examination!
Naughty Nichola missed her medical yesterday and she was sent to see Nurse Vicky for a proper check-up! Nichola was soon to find out what this would involve, as Nurse Vicky began her very 'hands-on' examination.
Having made Nichola undress, she discovered her patient was wearing pantyhose tights instead of stockings, which is totally against the school regulations. So that's why she was reluctant to come in for a medical!
Nichola made an excuse, saying tights help keep her warm and she likes wearing them! Nurse Vicky was having non of it, and ripped open Nichola's nasty pantyhose so they were no longer of any use.
Having exposed naughty Nichola's arse and pussy, Lesbian Nurse Vicky couldn't resist giving Nichola a 'special examination', using her tongue to lick and probe her patient's orifices.
Nurse Vicky's pussy needed some attention after giving Nichola a good cunt licking, so she stripped off her uniform, leaving on her stockings and suspenders. Then laying back on the desk, Nurse Vicky spread her stockinged legs and made her patient lick and finger her shaven haven.
Lots of cunt licking and finger fucking ensued between lustful nurse and patient, resulting in both giving each other a mutual masturbatory orgasm!
Watch Nichola & Vicky pleasure each other in this (189 image) photo set and (23 minute) movie 'Medical With Nurse Vicky' at VF Academy.
Get our superb Vintage Flash newsletter each week - all the latest model info, updates, set preview pics and more!