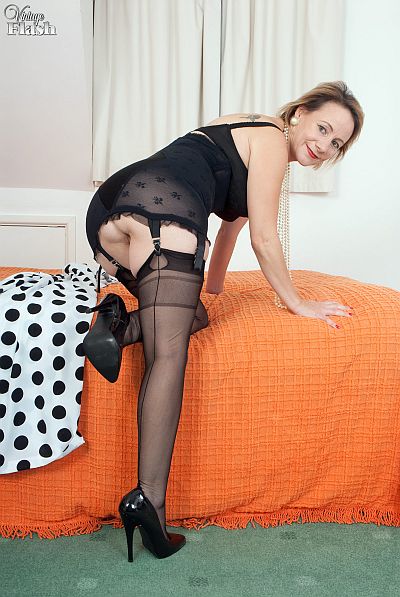 Tiffany had just got back form a posh event, where she wore her wide brimmed hat and latest polka dot summer dress, plus some very hot vintage underwear and nylons.
She noticed a lot of the guys looking at her seamed stockinged legs, of which only her ankles and heels could really be seen due to the length of her dress, but even this 'glimpse of stocking' still drew a lot of attention.
'There were a lot of men there, looking me up and down, but I don't mind as I like to tease a bit,' Tiffany said, sitting on the edge of the bed looking quite respectable in her posh frock. 'Would you like me to tease you?'
Tiffany was in the mood for some naughty fun, and lifting up her dress she revealed she was wearing an all-in-one black girdle with metal suspender clasps attached to the tops of her 'double banded' stockings tops.
'Makes my ass look great, doesn't it,' Tiffany said, as she wiggled her girdled ass, making the suspenders pull and stretch at the tops of her seamed stockings. 'That's why I like girdles, they hold it all in and it feels really sexy.'
Stripping out of her dress and removing her black bullet bra, Tiffany played with the long string pearl necklace she was wearing, letting it fall in her cleavage and frame the globes of her all natural breasts.
Spreading her stockinged legs as she lay back on the bed, Tiffany masturbated with several fingers up her juicy pussy, giving herself and enormous amount of pleasure as she climaxed in her girdle and stockings.
See Tiffany T striptease and masturbate in her girdle and nylons in this (160 image) photo set and 15 minute video – 'Garden Party Get Up'.
Get our superb Vintage Flash newsletter each week - all the latest model info, updates, set preview pics and more!