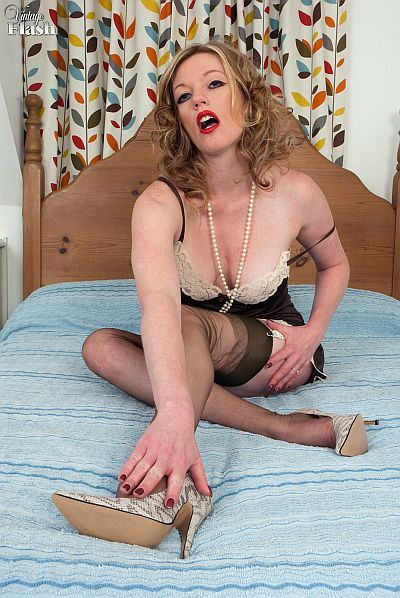 Holly Kiss shows us how a posh lady likes to unwind in sexy lingerie, nylon stockings, suspenders and heels in her latest video at Vintage Flash.
Sitting on the edge of the bed with her legs crossed, Holly relaxes in her lingerie,  admiring her sexy brown RHT nylons, which wrinkle as they gather at the back of her knees.
'My stockings feel so smooth against my shapely legs,' Holly says, her hands lovingly caressing the contours of her calves and thighs encased in close fitting nylon.
'They have reinforced heel and toes, and they fit like a glove', she tells us, as she uncrosses and extends her legs, making her nylon stockinged thighs whisper as they brush together.
'I wish you were here to run your hands all the way up my legs, right to the top of my stockings, feel the silky lace of my slip, and see how it falls like water over my body,' Holly says, sliding her hands over her curves, becoming aroused by the cool sensation of her satin slip as it glides over her frame.
Reclining on the bed, Holly removes her sheer nylon panties, and kicking off her heels she shows the soles of her nylon stocking feet and rubs them together.
Feeling very horny after her prolonged striptease, Holly inserts a pink vibrator up her pussy and masturbates in a variety of positions to reach a satisfying climax.
See Holly seductively striptease in her lingerie stockings, then masturbate to orgasm in her (209 image) photo set and video – 'A Lady In Her Pearls.'
Get our superb Vintage Flash newsletter each week - all the latest model info, updates, set preview pics and more!