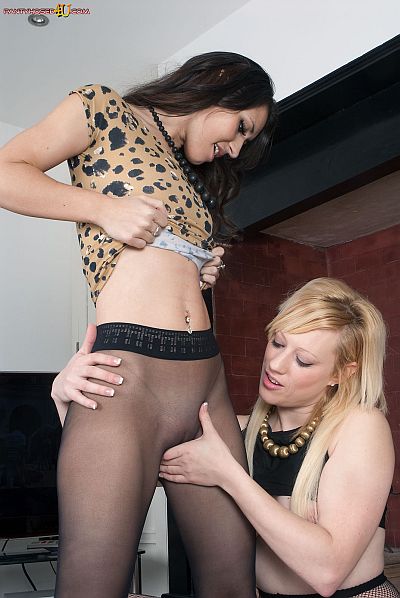 Wearing her new denim micro skirt and fishnet tights, Axa asks her good friend Jess what she thinks of her outfit. Jess likes her skirt, but thinks it's hardly worth Axa wearing it to go out in, as it's so short and almost shows off everything!
Having removed her skirt, Jess is thrilled by Axa's ass and legs in her sexy fishnet tights, and starts to feel up her friend's pussy concealed behind the pantyhose mesh.
Axa notices Jess' dress is just as short and reciprocates by feeling her friend's pantyhosed bum, and admiring her legs sheathed in their sheer black nylon hose.
Both girls start to kiss, then Jess gets her head down between Axa's open thighs, giving her shaven cunt a good licking through the tight net material of her pantyhose crotch.
The front panel of Axa's hose tears open easily as Jess rips it with her fingernails, allowing her to suck her friend's juicy labia and lick the hard bud of her pierced clitoris.
Jess then lays back on the rug and putting her hand down the front of her tights, opens her pussy lips so they are splayed behind the tight sheer mesh of her pantyhose.
Axa puts her face between her friend's thighs and licks her nyloned pussy; poking her tongue through the yielding nylon material and dipping it into the folds of Jess' creaming cunthole.
A lot of cunt licking and mutual lesbian nylon loving in various positions ensues as the pair continue to explore with tongues and fingers.
Finally, both girls masturbate with their digits slipping up their hot snatches and together they reach a simultaneous climax.
See Axa And Jess get it on in pantyhose in this (143 image) photo set and video – 'Skirting The Issue' at Pantyhosed4U.
Get our superb Vintage Flash newsletter each week - all the latest model info, updates, set preview pics and more!