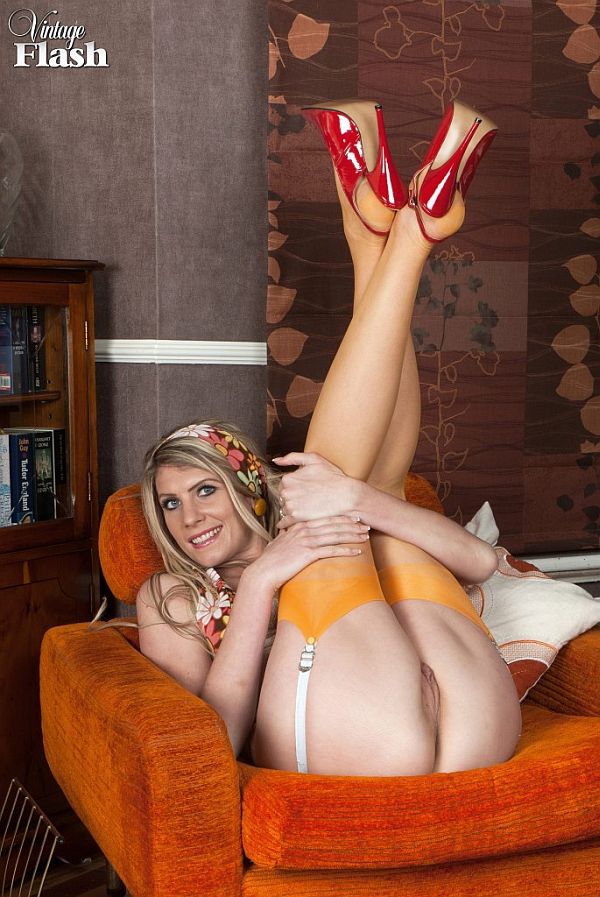 One of Bianca's favorite fashion periods is the mid-sixties so it's all flower power and colored RHTs in her latest video for Vintage Flash.
Remember the swinging sixties, when free love and hairy holes were on offer and the girls wore a lot of colourful clothes and hosiery. Bianca loves the style of that era and so we gave her a pair of genuine 1960s, sheer orange tone nylon stockings to wear, which we must say looked really good on her slender legs.
'It makes me feel really good wearing all this sexy clothing, especially as I'm not wearing much underneath,' she said, standing with one foot on the pouffe and drawing her hand up the length of her leg in those coloured nylon stockings.
Bianca lifted the front of her printed floral dress to reveal she was wearing a vintage suspender belt; the mound of her neatly trimmed hairy pussy perfectly framed by the long suspenders stretching down her thighs to the tops of her stockings.
'I can see you are getting very turned on watching me play around,' she said, sitting back in the chair with her legs open and giving an eyeful of her naked pussy under her dress. 'Maybe you should to take your trousers down and we can play together.'
Stripping off her dress and bra, Bianca fondled her tear-drop shaped titties as she massaged the outer lips of her exposed pussy. 'That's really turning me on watching you play with your hard cock,' she said, as her fingers slid between the lips of her juicy cunt, 'I bet your balls are filling up with spunk, ready to shoot all over me!'
Bianca spread her legs wider and inserted her fingers between the moist lips of her pussy as she continued to masturbate; the webbing of her garter-belt and suspenders, pulling on the tops of her sexy stockings. Her fingers circled over the hood of her clitoris and slipped inside her cunt, making wet sticky sounds as they slid in and out of her sopping wet hole.
Get our superb Vintage Flash newsletter each week - all the latest model info, updates, set preview pics and more!