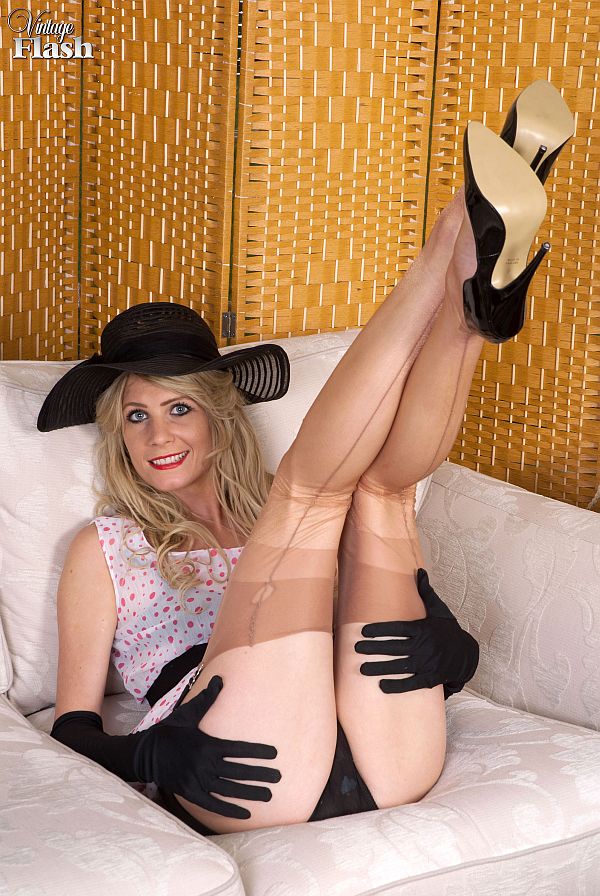 Bianca arrived home having spent the day at the Ascot races, where she was dressed for the occasion in a light summer dress, through which you could see the outlines of her sexy underwear.
As she mingled in the crowd of the silver ring enclosure she attracted a lot of attention from various gentlemen, who could not but help notice she was wearing suspenders and stockings under her flimsy dress.
Bianca was feeling horny and excited after having all those men eyeing her up, and she lay back on the sofa and stroked her gloved hands up the inside of her thighs and over the silky tops of her Magnolia 3980, vintage glimmer nylon stockings.
Stripping out of her dress revealed she was wearing a black suspender belt, then removing her matching bra she reclined with her legs open to give a view of her black pantie crotch.
'I'd love you to come and suck on my nipples and make them hard while you finger my pussy and I'll wank off your big cock,' Bianca said lasciviously, as she pulled on her nipples and twisted them around between her gloved fingers.
'I'm such a dirty bitch, aren't I?' She admitted, sliding her hand down the front of her panties which were already stained with her pussy cream. 'I'd like a nice hard fuck and my pussy is getting wetter at the thought of your cock deep inside me.'
Slipping her panties down her long legs in their tan fully-fashioned nylons, she removed them from over her heels and sat legs spread open with the webbing of her suspenders framing her juicy pussy.
'Keep wanking that cock while I stick my fingers in my pussy and fuck myself,' Bianca said, inserting several fingers between the fleshy lips of her cunt and fucking them inside her sticky hole.
'You can spunk all over my pussy for me, go on,' she encouraged, biting her lip and tweaking her nipples as she jammed her fingers up her hot snatch and brought herself off to climax.
Get our superb Vintage Flash newsletter each week - all the latest model info, updates, set preview pics and more!
NEW SERVICE FOR ALL SMART PHONE USING NYLONS LOVERS!
Text Nat here to get all her pics sent to your phone!
JUST TEXT 'WHITESEAMS' TO 69666
Phone fun day or night!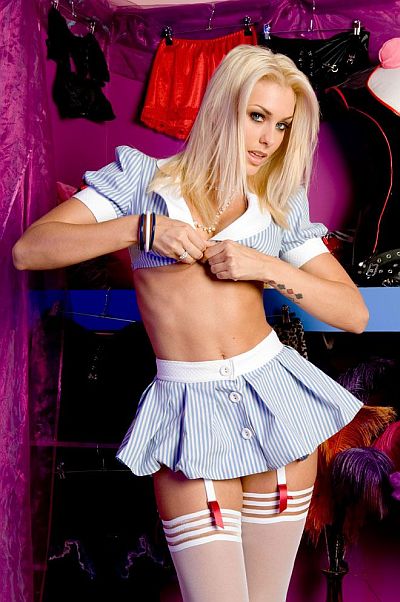 Terms & Conditions (Max 3x £1.50 per msg sent) help: 03333356970 PNP MEDIA - 2 STOP txt STOP
.......................................................................................................