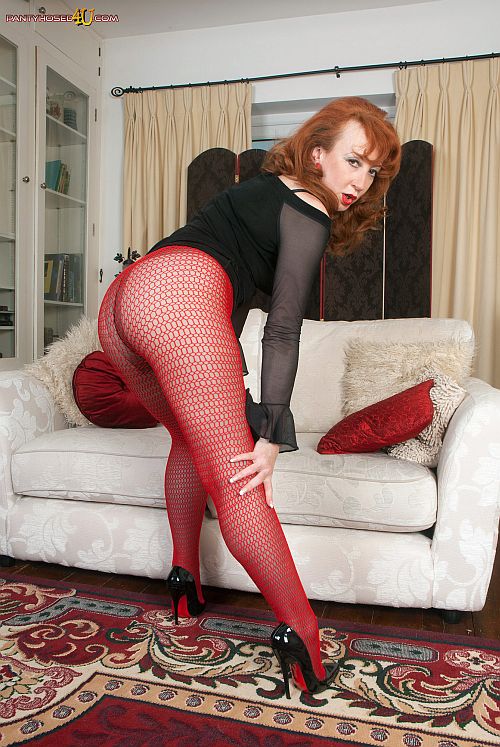 'I'm a bit of a kinky girl, very kinky in fact and not only do I like my pantyhose but I like it layered', Red said, running her hands up and down her shapely legs in their layers of pantyhose. 'I love fishnet and I like sheer nylon, so I thought it's best I wear them both,' she added, leaning forward and dragging her fingers through the mesh of her fishnet pantyhose, then turning to show off her pantyhosed ass encased in layers of hosiery.
Kneeling  on the sofa, she looked over her shoulder to feel the broad cheeks of her arse through her tight layers of hose; moving her hand against the loose layer of fishnet and sliding it over the slippery nylon layer beneath. 'No need for panties with all that lovely nylon tight around the crotch,' she remarked, reaching around to rub her pussy through the double layer of pantyhose.
Suddenly standing up she wiggled out of her dress and gave a close up view of her crotch, then pushed her hand between the layers of her pantyhose. Her hand worked under the layer of fishnet hose as she massaged her nyloned cunt and thrusting her hips with increasing rhythm she brought herself to orgasm.
Red removed her bra and pulled her fishnet pantyhose right up to her naked tits, rubbing the nipples against the stretched mesh and massaging her hand over her crotch to make her hose slide against her pussy. Then she pulled down her fishnet tights until they were stretched around her ankles and slipped her hand down the front of her sheer nylon pantyhose. She fingered her hot, moist cunt behind the nylon screen of her tights and then pulled them completely down so she could masturbate fully naked.
Get our superb Vintage Flash newsletter each week - all the latest model info, updates, set preview pics and more!