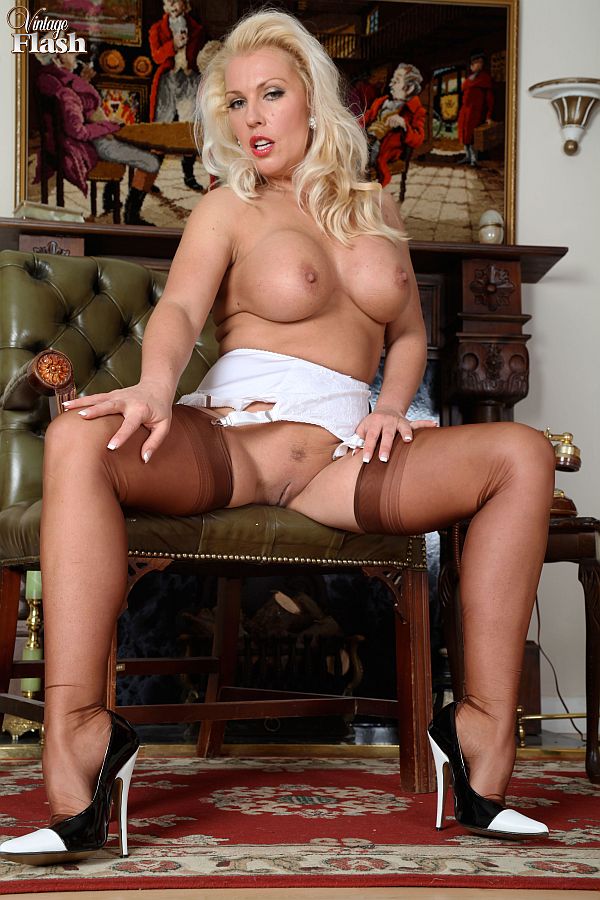 Leggy Lana is all dressed up in her polka dot dress, finest fully-fashioned nylon stockings and heels and needing a man to spend the evening with having some sexy fun, she gives you a call…
'I've been feeling kind of horny today, all dressed up and nowhere to go and nobody to play with, so I'm so glad you could come over and play with me,' Lana says, as she sits in a chair with her legs crossed and tantalizes you with views of her shapely legs in her shiny nylon stockings and sexy heels.
Lana pulls back the hem of her dress and extending one leg she smooths her hands over the surface of her chocolate fully-fashioned stockings, then runs her palm along the back of her thigh to where the tops are attached to her metal clasped suspenders.
Standing, she removes her belt and strips off her dress, allowing it to fall to the floor and reveal she is wearing an all white vintage bullet-bra, garterbelt and sheer nylon panties.
Lana places her hands under the reinforced cups of her bra which fits tight around her firm tits, then undoing the catch at the back, she slips it over her arms and lets the the mounds of her fully-formed boobs hang free.
She strips her panties down her legs in their chocolate colored stockings, then sitting in the chair with one leg over the arm and the other pushed back against her chest, she rubs the distended outer lips of her gaping pussy which is already oozing with her juices.
Lana lays on the floor with her stockinged legs open and inserting several fingers inside her pussy she slaps the palm of her hand against her slippery wet hole as she finger fucks herself to climax.
Get our superb Vintage Flash newsletter each week - all the latest model info, updates, set preview pics and more!