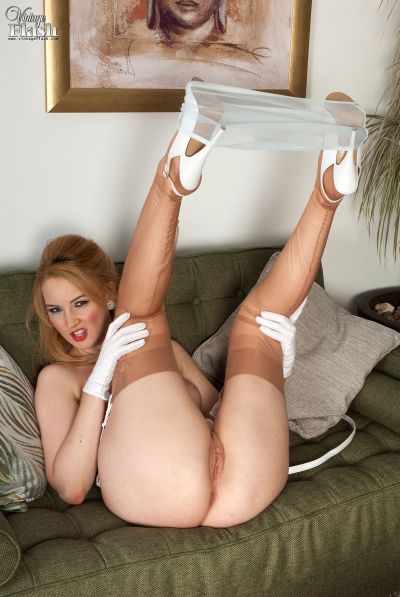 Dressed in her fine summer frock, fully-fashioned nylon stockings, gloves and heels, Katie was all ready to go out for the evening with her boyfriend, when he called and canceled their evening together. What a shame, as she had dressed especially him in stockings and suspenders and was looking forward to getting a good fucking.
The taxi driver had just arrived to pick her up, so feeling frustrated and let down she tells him that she needs some cock, any man's cock, and would he like to get his out and watch while she teases out of her dress.
'I want you to look at me and think how you'd like to fuck me on that sofa,' Katie said, unzipping her dress and letting it fall away to reveal she was wearing a vintage bullet bra. 'I just need your cock, I need it so much!'
Katie pushed the cups of her bra together with her gloved hand, squeezing and grabbing her tits, then shaking her chest so they wobbled from side to side. Then turning around to gave a rear view, she eased the dress very slowly over the cheeks of her arse which were sheathed in sheer baby blue panties.
'I'll just let you look at me, and admire my sexy body and outfit,' Katie said, as she stood swaying her pert ass and showing off her suspenders and sexy legs in tan nylon stockings. 'I can be a slut you know, the biggest slut you'll have ever met!'
Katie pushed her hands down the rear of her sheer panties, feeling and squeezing the globes of her ass with her gloved hands. Then she sat of the arm of the sofa and ground her pussy as she massaged her clit with gloved fingers down the front of her knickers.
Standing once more, she slowly teased her panties down her stockinged legs to reveal her shaved cunt framed by the straps of her lacy garterbelt. 'I want you to lick that clit for me and taste those juices,' she said invitingly, pulling apart the lips of her pussy with gloved fingers and exposing her hot, erect clitoris.
'Now are you ready to fuck me nice and hard,' Katie asked, as she lay back on the sofa with her legs pulled right back and wide apart to expose her cunt and anus. 'Oh I want your cock, I need your cock,' she cried out, slipping several fingers into her juicy quim. She writhed and moaned with sexual pleasure as she felt herself cumming and pushed her fingers deeper into her tight hole as she reached an intense climax.
Get our superb Vintage Flash newsletter each week - all the latest model info, updates, set preview pics and more!