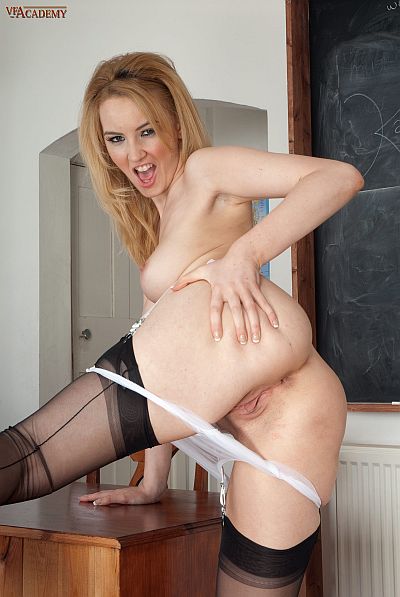 Katie is banged up in detention for stealing another girl's clothes while she was in the shower, with the intention of seeing what this new girl looks like fully naked.
'What! I'm a naughty girl?' Katie exclaims in mock incredulity to our randy Janitor who has come to keep her company. 'I know I'm a naughty girl, but you like naughty girls, don't you! Do you want to see up my skirt?
Katie slowly raises the hem of her brown plaid skirt. Opening her legs she shows the wisps of pubic hair visible through the front of her sheer white nylon panties, and the array of white suspender straps attached to the tops of her black nylon stockings.
Being such a naughty minx, she insists the Janitor get his cock out and is very impressed with it's size when he shows her his monster hard-on. She wonders if her pussy hole is big enough to take his huge erection, thinking she would like to give it a try.
Slipping out of her skirt, Katie then sits on the edge of the desk and opens her legs to show the pink lips of her pussy spread beneath the sheer material of her nylon pantie crotch.
'What do you want to do to me, do you want to fuck me with your cock?' Katie asks, sitting on the desk with her stockinged legs open, rubbing her pussy through the moist gusset of her naughty nylon knickers.
Katie then pulls down her panties and encourages him to wank his cock, giving him a perfect view as she gets into lots of positions and masturbates with fingers slotted up her sticky fuck hole.
Get our superb Vintage Flash newsletter each week - all the latest model info, updates, set preview pics and more!