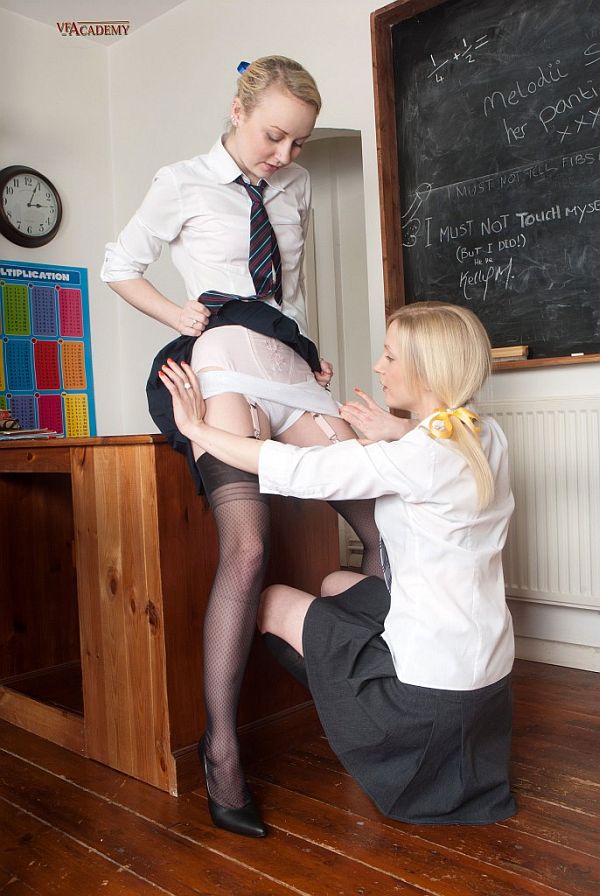 Kiana and Chloe were caught touching each other up during class by their form teacher and were sent straight to detention for the remainder of the afternoon.
Finding themselves alone together they decided to make the most of their time by continuing were they left off and began kissing and touching each other as they leaned against the desk.
Chloe knelt and pushing her hands up Kiana's skirt, she slowly pulled her friend's white cotton panties down to her ankles, then put her head between Kiana's stockinged thighs and gave her moist, pink pussy a licking.
The webbing of Kiana's pink suspender belt stretched to the tops of her black nylon stockings as she sat with her legs spread wide and watched Chloe's blonde head moving between her thighs.
Chloe then stood and helped Kiana unbutton her crisp white shirt and pulling down the cups of her pink bra she sucked on the soft, pink nipples of Kiana's petite breasts.
Kiana lay back on the desk as Chloe expertly dibbed her tongue into Kiana's slit and sucked on the lips of her plump pussy which made her cum.
Then is was Chloe's turn and Kiana stripped her friend out of her uniform, bra and panties, then making her lie on the desk she sucked, licked and nibbled on Chloe's hot pussy, causing her to cry out as she reached her climax.
Get our superb Vintage Flash newsletter each week - all the latest model info, updates, set preview pics and more!