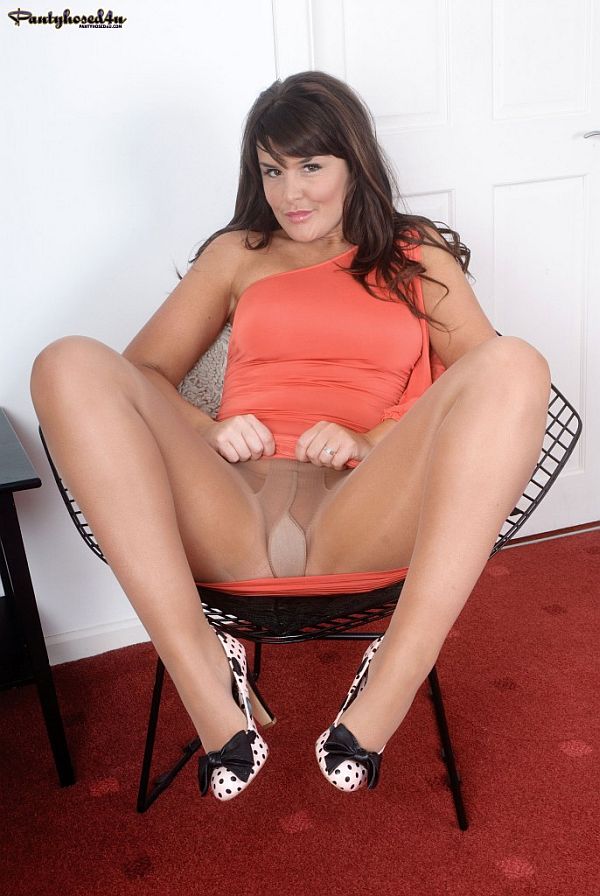 Elle attended an interview at the home of a wealthy business man involved in real estate, in the hope of securing the position of becoming his personal secretary. Fully intending to impress her potential new boss, she wore a tight fitting dress that clung to her shapely figure, some shiny tan pantyhose and heels.
During the interview she noticed that he kept looking at her crossed legs as she sat in the chair opposite. When he told her he'd expect her to use her initiative, she uncrossed her legs and sat with them slightly apart, letting him get a good look her pantyhosed crotch under her dress.
Seeing that his gaze was focused between her legs she decided to take things further and stood to pull down the front of her dress until it was around her waist, uncovering her all natural, full sized boobs. Lifting her dress over her hips she smoothed her hands over her nylon covered thighs, drawing attention to her shaved cunt behind the tight fitting crotch of her sheer pantyhose.
Sitting down on the chair once more, Elle opened her legs and pulled them back to give him a better view of the sheer nylon mesh stretching tightly over her cunt. Placing her hand over the slightly opaque patch of the pantyhose gusset she massaged her pussy through the tight nylon, then slipped her hand down the front of her tights and fingered her pussy behind the taut nylon screen.
Turning to kneel in the chair she offered him a view of her sumptuous arse, sheathed in shiny tan pantyhose, then pushed her hand between her plump thighs and rubbed her pussy through the damp gusset.
Tearing into the crotch of her hose with her fingers she ripped the laddered nylon away from the reinforced gusset patch. Shredding the remainder of her tattered nylon pantyhose with her hands, she exposed the crinkled fleshy lips of her juicy cunt and inserted her fingers into the slit of her hot pussy to masturbate.
He watched as she lay back and vigorously massaged the lips of her gaping cunt all nicely framed by her laddered tights, encouraging him to play with his cock as she wanked herself off to an intense orgasm in her sexy pantyhose.
Get our superb Vintage Flash newsletter each week - all the latest model info, updates, set preview pics and more!