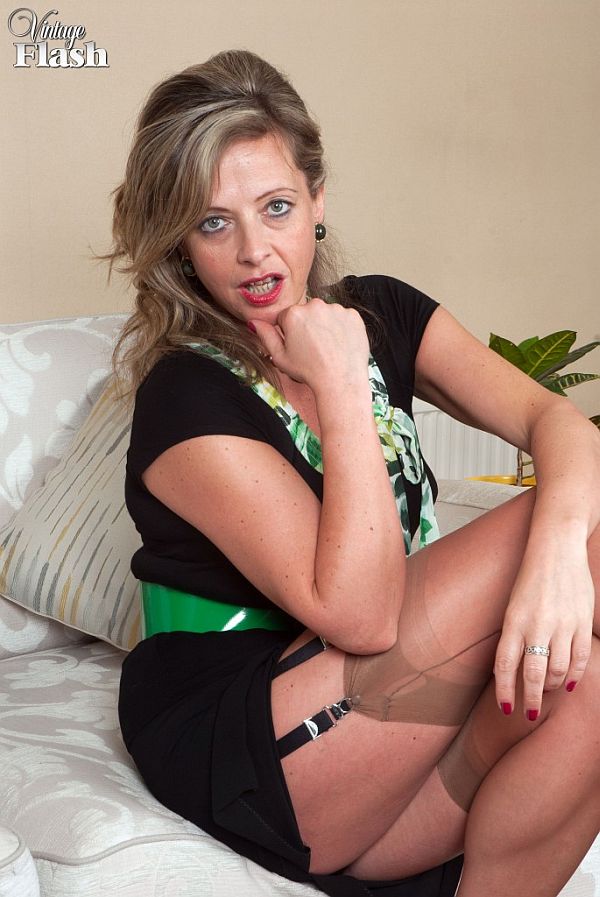 'Hello darling, I hope you haven't been waiting long, I spent ages getting ready for you,' Lou said, as she stood and showed off her mature curves in her black dress, rht nylons and shiny, patent leather heels. 'I'm always thinking how I can please you, so I'm wearing your favorite reinforced heels stockings and suspenders!'
Lou pulled back the hem of her dress to reveal black suspenders with metal clasps attached to the tops of her stockings, then plucking the suspenders between her fingers, she let them snap back against the flesh of her thighs.
Lou sat and slipped off her heels, then lay back and rubbed her legs together so her stockings rasped as they brushed against each other. She swept her hands over her legs and caressed the surface of her stockings, pointing her feet and wiggling her toes in their cocoon of soft and silky nylon.
Lou stripped off her dress to reveal her black lacy bra and ran her hand over her buttocks encased in matching, full-cut panties, which clung around her fabulous arse. Hooking her thumbs under the waist of her panties, she slowly teased them over the her metal suspender clasps, down her legs and over her stockinged feet.
'Oh, this is a nice way to spend an afternoon,' Lou smiled, a glowing look of pleasure on her face as she lay back with her legs spread apart and began to masturbate. Her hand massaged her mature cunt as she humped her arse up and down on the sofa, her fingers circling and pressing against the flesh of her erect clitoris.
The webbing of her black suspender-belt stretched and pulled on the tops of her nylon stockings as she masturbated with her hand between her thighs. Her fingers spreading the lips of her labia wide open, to show the wet pinkness glistening with her juices, as she frigged herself off to an intense climax.
Get our superb Vintage Flash newsletter each week - all the latest model info, updates, set preview pics and more!