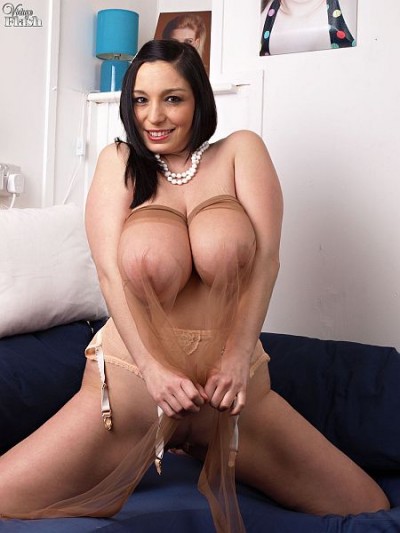 Michelle loves it when the sun is shining outside, as it means she can put on a summer frock and wear stockings and suspenders underneath.
'The weather may be hot and sticky outside, but when I'm walking down the street I enjoy the sensation of cool air circulating around the tops of my stockinged thighs under my dress,' she told us.
Michelle turned up for this video session wearing her latest summer outfit, and had come prepared in her stockings, suspenders and white stiletto heels.
I must say, it was difficult not to notice the low cut top of her dress, and those humongous titties of hers, which were almost spilling out of their 'hammocks'.
She smiled, 'Yeah, do you like them? I know, I do. I love playing with my big juicy knockers when I'm feeling horny. Lifting them up and squeezing them together, imagining there's a big stiff cock sandwiched in between. My boobs are very sensitive, so just pulling and rolling my nipples until they are as hard as storks makes my pussy tingle'
Michelle was feeling decidedly frisky and lifted her skimpy summer frock to let us see her tan stocking tops and white suspender belt. Then she unleashed her huge H cup titties, swinging and jiggling them around. 'That's better. I like it when they're free and unrestricted, I can jiggle them about as much as I like!'
Playing with her pussy in just sheer panties, suspender belt and nylons, Michelle was feeling hot in more ways than one. So she stripped out of her nylons and rubbed one rolled up stocking over her pussy. Then she had an inspiration, and taking each stocking in turn she encased her ample funbags in her seamed nylon stockings.
What a double nylon thrill Michelle gets as she masturbates with her bouncing boobies covered in sheer seamed nylon, in our latest movie, 'Michelle Bond – Fully Fashioned Titties',  available now at Vintage Flash.
Get our superb Vintage Flash newsletter each week - all the latest model info, updates, set preview pics and more!