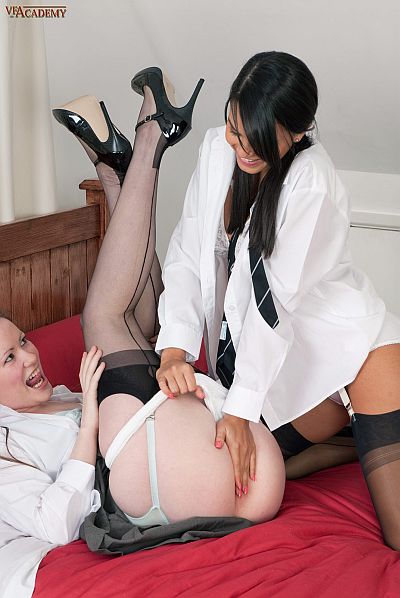 Sasha and Vicki are alone together discussing the last sex-ed class on 'lesbianism' and decide they should practice what they learned in the lesson on each other.
'Actually, that lesson really turned me on, made me feel horny', says Sasha, as the two girls entwine their stockinged legs and get closer on the bed.
'Maybe we should try it out and teach ourselves', agrees Vicki, with one hand up her school-friend's pleated skirt.
Sasha and Vicki are hot for each other and begin to kiss, then help each other to get their kits off.
Stripping out of their crisp white blouses and removing their pleated skirts, the girls explore their lesbian tendencies as they frolic on the bed in their stockings and suspenders.
Sasha spreads Vicki's stockinged legs and noticing the wet patch on her friend's white knickers, gets down and licks her pussy through the front cotton panel. Vicki squeals with delight as Sasha's tongue causes her panties to get even wetter and her clitty harder.
Watch Vicki and Sasha delightfully undress each other and enjoy playful sex, a bit of light spanking, pantie removal and lots of pussy play and cunt licking in seamed stockings and suspenders, in 'Sasha & Vicki – Practice Makes Perfect!' at VF Academy.
Get our superb Vintage Flash newsletter each week - all the latest model info, updates, set preview pics and more!