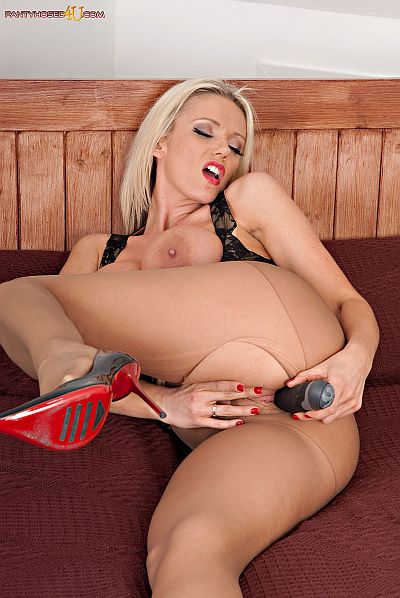 VIEW THE TRAILER OF LUCY ZARA IN PANTYHOSE
Leggy Lucy Zara is in need of some real pantyhose fetish fucking and all she requires is a guy who loves to have his cock encased in nylon.
Lucy loves seeing a hard cock covered in her nylon pantyhose and told me just how much it turns her on.
'I like to tease guys by making them sit and watch as I wiggle my pantyhosed arse in front of their faces. They are not allowed to touch me with their hands at all, even when I push my nylon covered ass right in their face and rub my nyloned arse crack over their nose.
'When I tell them to start playing with their cocks, I make sure they get a good sniff of my pantyhose crotch as I rub it in their face, maybe even let them give my pussy a little lick through the nylon mesh.
'Then I get them to watch as I strip off my sheer pantyhose and sit patiently as I pull my sexy nylon hose over their throbbing hard cocks.
'I then like to tease their pricks with my mouth by licking, sucking and blowing their nyloned erections, just bringing them to the point of orgasm and then denying them that pleasure.
'I continue to tease and deny in this way, until finally they are allowed to empty their balls and soak my pantyhose with their hot sticky cum.
See more of Lucy talking about her pantyhose fantasies in 'Lucy Zara – Fuck Me With Your Nyloned Cock' at Pantyhosed4u.com.
Get our superb Vintage Flash newsletter each week - all the latest model info, updates, set preview pics and more!