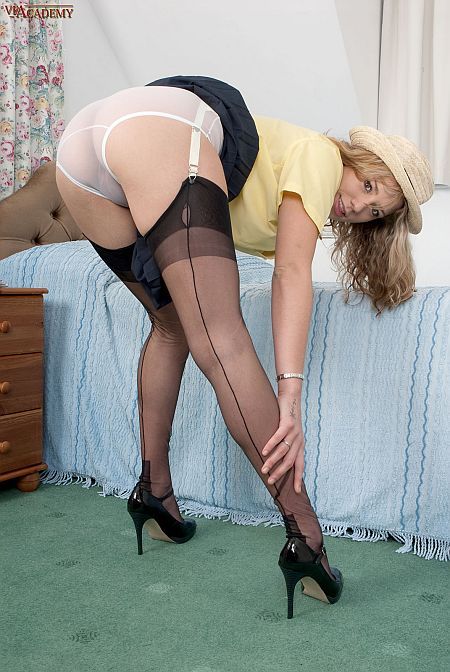 Our randy janitor sneaked into Sophie's bedroom with his camera, and watched as she stripped and masturbated in her stockings and suspenders, as seen in this video at VF Academy.
Sophie pretends she is annoyed at our man with the camera, but being a naughty minx, she is pleased to have someone to watch her slowly striptease out of her uniform.
Sitting on the edge of the bed with her stockinged legs open, Sophie rubs her pussy through the damp crotch of her sheer nylon panties. Getting in close so you can almost smell the musky scent of her sex, she massages her pussy slit through the soft semi-transparent material.
Standing so we get an upward view, Sophie lifts her skirt and turns to tease us with rear views of her pantied ass, sexy stockings tops and suspenders.
Undoing her skirt, she lets it fall away to reveal how her saucy vintage garter belt shows through the gossamer like material of her see-through knickers, the long suspender straps stretching down to hold up her wrinkled nylon stockings.
Kneeling on the bed, Sophie then teases her white panties down and over the naked flesh of her buttocks, leaving them stretched tightly between the tops of her seamed stockinged thighs.
She then presents her exposed arse and pussy, prising the lips of her labia apart and slipping her fingers into the pink moistness of her juicy cunt.
Sophie massages her clitoris with one hand, and stirs her honeypot with the fingers of the other, as she masturbates on the bed to a cunt slapping climax!
See Sophie masturbating in her stockings and suspenders in this (180 image) photo set and 15 Minute video – 'Gonna Get You In Trouble'.
Get our superb Vintage Flash newsletter each week - all the latest model info, updates, set preview pics and more!