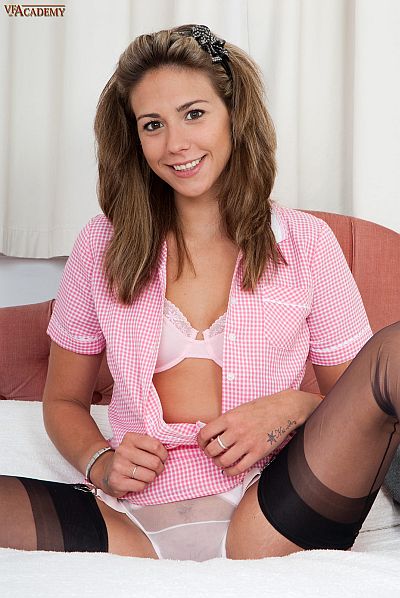 Sophie had been to see Nurse Zoe today and the experience stuck in her thoughts after an up close and personal physical.
Having busty lesbian Zoe running her hands all over Sophie's body has left her feeling turned her on, and now she wants to relive the encounter.
'When she was feeling my breasts, I could feel my nipples get hard, straight away,' recounts Sophie about her examination as she lays back on the bed in her room.
'It's making me quite horny just thinking about it again,' she says, making herself more comfortable, spreading her legs so the crotch of her sheer nylon panties and stockings tops are are on full view.
'She bent me over the table and started checking my pussy, pulling it apart to see inside,' giggled Sophie, removing her uniform tunic. 'I wonder if she liked it, I bet she did; she's definitely a pervy nurse.'
Sophie slipped off her tight pink bra and pulled on the stalks of her brown nipples making them stand erect, then pushed her hands into her nylon panties and massaged her moist pussy lips and budding clitoris.
Pulling her knickers down so they stretched tightly across her thighs and the tops of her seamed nylon stockings, Sophie masturbated using both hands to get herself off thinking about her big titted nurse.
See Sophie in her traditional uniform, nylons and panties in this (172 image) photo set, and watch her masturbating to climax in her 16 min movie – 'Nurse Of Her Dreams' at VF Academy.
DOWNLOAD SOPHIE'S MASTURBATION IN NYLON STOCKINGS VIDEO AT VF ACADEMY.
Get our superb Vintage Flash newsletter each week - all the latest model info, updates, set preview pics and more!