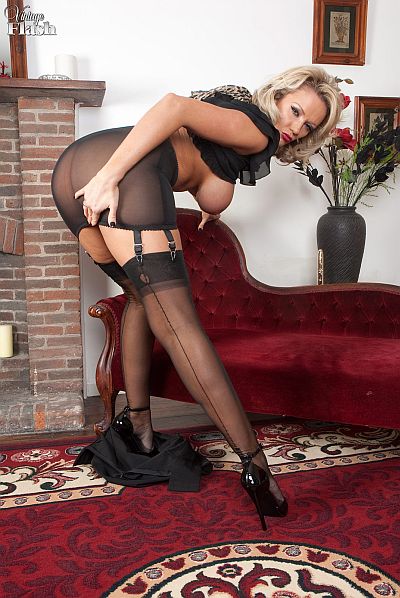 Lucy Zara likes to indulge her men, dressing in the sexiest outfits that are guaranteed to draw attention to her fabulous figure and legs in nylon stockings and heels.
She loves to tease them by lifting the hem of her skirt to give a glimpse of what she is wearing underneath, before she strips off her garments until she is down to her lingerie and stockings.
Standing in her heels and bending slightly forward so her arse is firm and rounded in her tight black skirt, Lucy strokes the tapering length of her nyloned leg with one hand.
'How do my seams look? Do they look nice and straight?' she asks, tracing her fingers up and down the sexy backseam of her stockinged leg. 'I bet you'd like to run your hands all the way up them, from my toes to the top of my stockings'.
Lucy's hands entice arousal as she lovingly caresses her legs in silky soft nylons, smoothing the little wrinkles that form about the backs of her knees with each delicate sweep of her fingers.
'Is your cock getting nice and hard for me?' she inquires, as she bends forward, raising the hem of her skirt to show she is wearing a black girdle underneath.
'I'd like you to rub your hard cock right up the seam of my stockings, would you like that?' she says, bending even further so the metal suspender clasps tug tightly at the tops of her sexy nylons.
Slipping off her skirt to reveal her lovely curves, Lucy poses in her heels to give a perfect view of her shapely legs to great effect.
'Is your cock getting real hard for me now, yeah?' She asks, smoothing her hands over her firm girdled ass and the tops of her stockinged thighs. 'Well, if your playing I think it's only fair that I join you.'
Spreading her stockinged legs as she reclines on the chaise lounge, Lucy inserts a gold vibrator up her pink pussy, working it up her lubricated hole until she reaches an explosive orgasm.
Let Lucy Zara take you on a girdled and nyloned journey as she masturbates for your pleasure in this (158 image) photo set and video – 'Cum To See Me' at Vintage Flash.
Get our superb Vintage Flash newsletter each week - all the latest model info, updates, set preview pics and more!