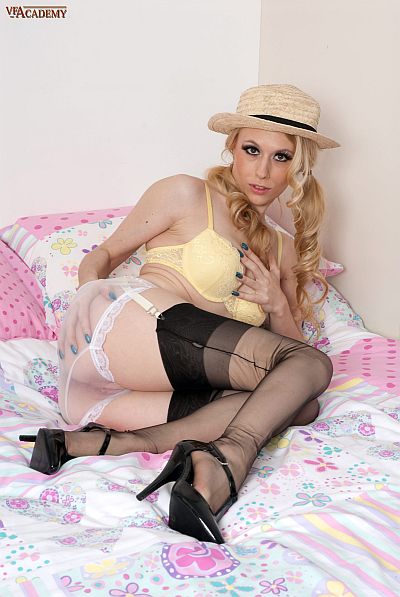 Michelle gets off on being watched as she masturbates in her nylon panties, stocking and suspenders in her latest video at VF Academy.
Our randy janitor sneaked up to Michelle's bedroom with his video camera 🙂 during her 'masturbation time', and as luck would have it she was just about to start.
Michelle tells him it'll be fun to have someone watch as she plays with her pussy, and pulls up her pleated skirt to give him a look at her sheer nylon panties, stockings and suspenders.
Michelle's pussy is clearly visible through the sheer gossamer of her panties, and she pushes her hands down the front, spreading the puffy pussy lips with two fingers and rubbing her cunt.
Raising her ass off the bed, she hooks her thumbs in the waistband of her lacy knickers and eases them down her long stockinged legs, giving them to our janitor as a souvenir.
Being a girl who lies to experiment, she masturbates with three fingers jammed up her tight cunny, stretching the walls of her vagina as she vigorously shoves her digits up her moist fuck hole.
Michelle's' full-fashioned stockings wrinkle at the back of her knees as she gets into several positions and frigs herself off to an intense climax.
Get our superb Vintage Flash newsletter each week - all the latest model info, updates, set preview pics and more!