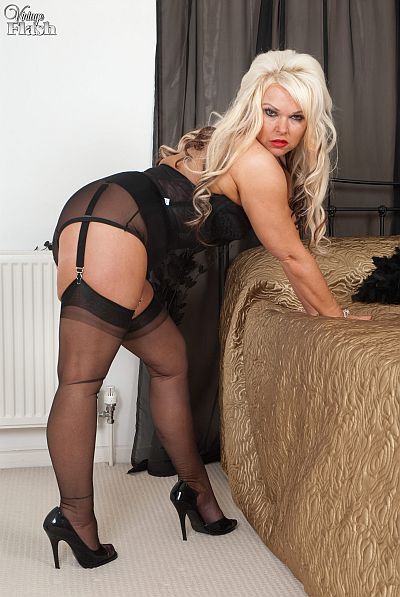 When you get a woman like Candy back to your hotel room, you can expect raunchy nylon fun and games, and she damn well knows it!
Candy is one of those randy married ladies who like a bit on the side. So every now and then she gets dolled up in her sexiest outfit and hangs out at hotel bars looking for some action.
Her black satin dress, RHT nylon stockings and heels are guaranteed to get someones attention, especially when she sits cross legged at the bar.
You'll know you've pulled when she gives you a wink, then crosses her legs to reveal a glimpse of stocking tops and suspenders in the 'v' split of her satin dress as it parts over her thigh.
Getting in closer, you offer to buy her a drink and engage in conversation. As you talk your hand slips over her thigh, feeling the outline of her suspenders through the cool material of her satin dress. Candy smiles at your forwardness and allows you to keep your hand in place; an acknowledgment she is willing to be your partner for the evening.
Once in your room, Candy strips down from her devilish black satin dress to her vintage merry widow corset and black nylons. Then getting on the bed, she kneels and tempts you with her firm round ass in sheer nylon panties, through which you can see her mature pussy waiting for your big hard cock.
Pulling down her panties over suspender clasps and stockings tops, Candy spreads her legs and pulls open the flaps of her pussy in readiness to feel your cock sink deep inside her mature cunt.
Get our superb Vintage Flash newsletter each week - all the latest model info, updates, set preview pics and more!