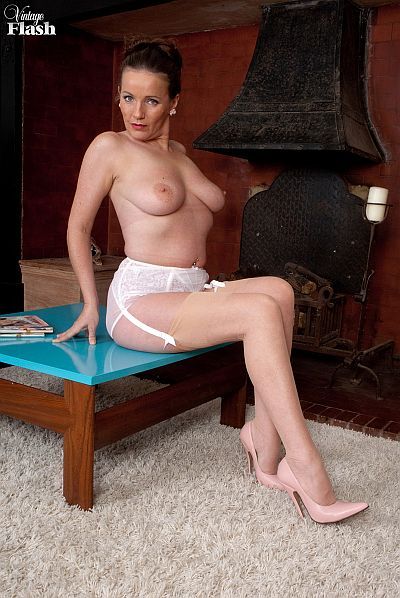 A very fetchingly attired and relaxed Marlyn talks us through the virtues of 'vintage', wearing some skin tone full-fashion nylons, bullet bra, deep garter belt and nylon panties in her latest video at Vintage Flash.
Marlyn is very popular with those who prefer mature ladies who wear vintage lingerie and stockings, as her very shapely legs look fabulous when she poses in nylon stockings and heels.
In her most recent video, Marlyn starts off fully-clothed, but she soon undoes her large buckle belt, and opens her pink top to reveal the vintage bullet bra she is wearing underneath.
Sitting on a low table, Marlyn opens her legs slightly and affords us some upskirt views of her hairy pussy, which is almost visible through the white mesh of her sheer nylon panties.
Having stripped out of her pencil skirt, Marlyn kneels on the table top, and looking over her shoulder, she pulls down her knickers until they are stretched across her thighs.
Pulling apart the cheeks of her bottom to expose the puckered ring of her arse, Marlyn spreads the lips of her gaping pussy for us to see she is ready for a good fucking.
Marlyn then sits with her stockinged legs open, and vigorously masturbates with her fingers knuckle deep in her mature pussy. Of course, she much loves her baby pink stilettos, so she presses toe tip of one shoe hard against her gaping cunt, and rubbing it against her clitoris she masturbates to climax.
See Milf Marlyn masturbating in her nylon stockings and shoes in this (185 Image) photo set and video – 'Goodie Two Shoes?'
Get our superb Vintage Flash newsletter each week - all the latest model info, updates, set preview pics and more!