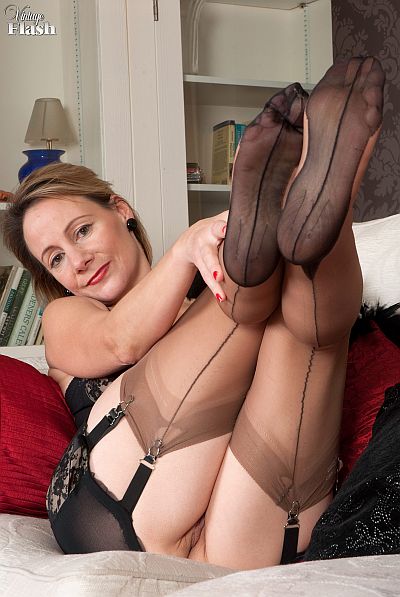 Tiffany is ready to go to a party dressed in a red velvet dress, underneath which she is wearing her best vintage finery – a hot corselette and black foot full-fashioned nylons.
Tiffany likes being the center of attention when she walks into a room and have all the guys eyeing up her curvaceous figure and legs in seamed nylon stockings and sexy leopard print heels.
Perhaps they'll notice the outline of her all-in-one corselette girdle she is wearing under her dress, and set their pulses racing as they mentally undress her in their imaginations.
Well, tonight Tiffany won't leave it all to your imagination. Just watch as she strips out of her dress, revealing her figure hugging corselette and naked pussy framed by her girdle's suspenders and the tops of her stockings.
Running her hands over her body encased in her tight foundation wear, she'll give a nice rear view as she wiggles her girdled ass in an invitation to fuck her rigid.
Watch as she relaxes on the sofa and kicks off her shoes to give a view of the soles of her blackfoot stockings. Then spreading the lips of her juicy pussy she'll masturbate and encourage you to stick your cock up her hot cunt and fuck her hard in her girdle and nylons.
Get our superb Vintage Flash newsletter each week - all the latest model info, updates, set preview pics and more!