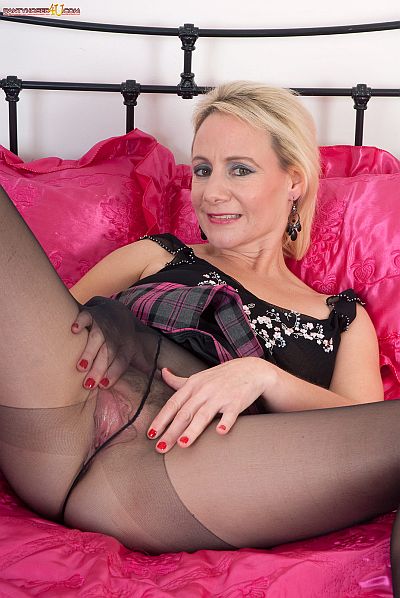 Housewife Tiffany was in really horny mood after putting on her black pantyhose, and she got straight down to showing me her pantyhosed pussy and mature ass clad in shiny nylon.
'I'm wearing no knickers', said Tiffany, as she pulled the nylon mesh of her pantyhose crotch against her the juicy lips of her pussy. 'Looks naughty and slutty, makes me feel really dirty, yeah, really dirty', she said, as she rubbed her hand over the nyloned slit of her mature cunt.
Lying to one side she presented me with her arse and put her hands down the rear of her pantyhose to feel the globes of her ass. 'Ooh, it feels nice to be encased in beautiful nylon,' she remarked, and her hand crackled under the stretchy nylon sheath as it moved.
'There's something special about wearing pantyhose nylons and no knickers', she continued, pulling the lips of her pussy wide open so it showed through the sheer nylon mesh. 'I'd love you to get your cock out, wank and cum all over my lovely nyloned legs and pussy!'
Tiffany continued to indulge in lots of nylon pussy play, stretching them up her body and pulling the black front seam tight against her clitty to make herself even hornier.
Unable to contain her mounting excitement, Tiffany ripped out the nylon pantyhose gusset with great gusto, spreading her gaping cunt and begging to be fucked.
In need of some cock, Tiffany grabbed her bulb ended dildo and stuffed it up her sopping wet cunt. Tiffany fucked herself hard, bouncing her pantyhosed ass against the bed as her pleasure mounted and frigged herself to a satisfying pantyhose climax.
See Tiffany's (133 image) pantyhose photo set, and watch her enthusiastic pantyhose masturbation show in her video – 'Pantyhosed Mature' at Pantyhosed4u.com.
Get our superb Vintage Flash newsletter each week - all the latest model info, updates, set preview pics and more!