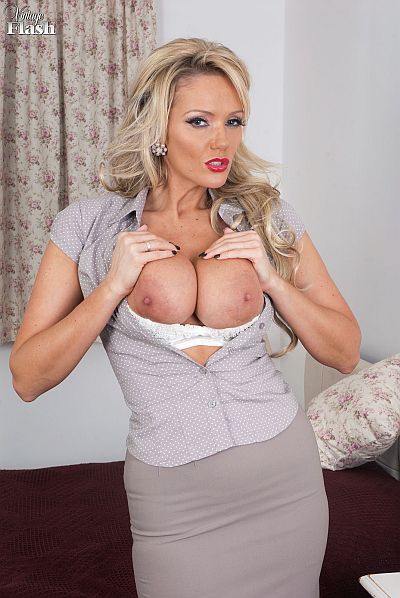 Lucy's huge boobs were straining for release from the closed constriction of her tight fitting blouse. So she stripped it off and let her volouptous breasts hang free, tweaking the nipples and cupping the bare flesh in her hands.
Bending forward to show off the fabulous curves of her sexy round ass clothed in her tight skirt, she playfully ran her hands up her nylon stockinged leg.
'I thought I'd dress up nice and sexy for you,' she said, as she climbed onto the bed, 'because I know you love my nylons.'
Lucy traced her fingers up the line of the backseam of her coffee colored nylons covering her long sexy legs. 'Make sure my seams are straight, will you?' She asked. 'They have to be extra straight, right up to the top'.
Then kneeling, Lucy hiked up her skirt saying, 'I want to show you something really special'. Pulling the skirt higher she revealed she was wearing white nylon panties . 'I knew you'd love them, the way they are so sheer and see-through, you can see my pussy.'
Lucy put on a fine show as she put her arse in the air and felt her pussy through the sheer white gossamer of her nylon panties.
Then stripping right down, she paraded her legs and feet in her full-fashioned stockings. 'I'll bet you'd like to be down there, caressing my feet and giving them a really nice massage,' she said, as she offered her nyloned soles for inspection.
Lucy was so turned on by the feel of her nylons and her sexy stocking talk, she ended by fingering her moist cunt and climaxing in an ass up frigging session!
See Lucy Zara stripping and masturbating in this (181 image) photo set and full length movie 'Bustin' Out!' at Vintage Flash.
Get our superb Vintage Flash newsletter each week - all the latest model info, updates, set preview pics and more!