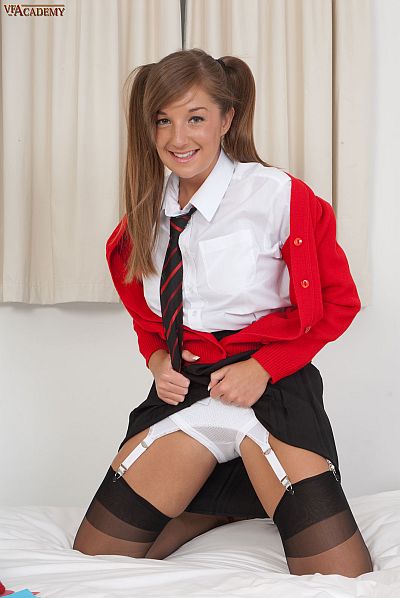 Cate is back home after a day at the academy and she just can't keep her hands off her pantied pussy, she is such a tease!
Laying on the bed, she pulls back the hem of her skirt, making the taut straps of her suspenders and nylon stocking tops become tantalizingly visible.
'I can feel my panties getting moist,' she says as her hand reaches just under her skirt. Encouraged by her naughty feelings, she asks, 'Do you want to see them?'
Cate sits up, puts her hands between her closed thighs and starts rubbing her concealed pantie crotch as she continues to tease.
'Sometimes I slip my hand up my skirt and I start rubbing my pussy through my panties,' she confesses, as the action of her hand demonstrates her naughty behavior.
'You know what, when I'm really naughty I like to rub my pussy with my fingers and sniff them afterward', she giggles. 'Shall, I show you?'
Cate obliges by sniffing and licking her fingers, before pulling her white cotton knickers down her nyloned legs and licking her pantie gusset!
Cate gets so turned on she ends up rubbing her knickers over her hot pussy, then masturbates with several fingers up her moist sex hole and makes herself cum hard!
See Cate Harrington masturbating in her panties in this (143 image) photo set and full length movie 'Panty Player' at VF Academy.
Get our superb Vintage Flash newsletter each week - all the latest model info, updates, set preview pics and more!