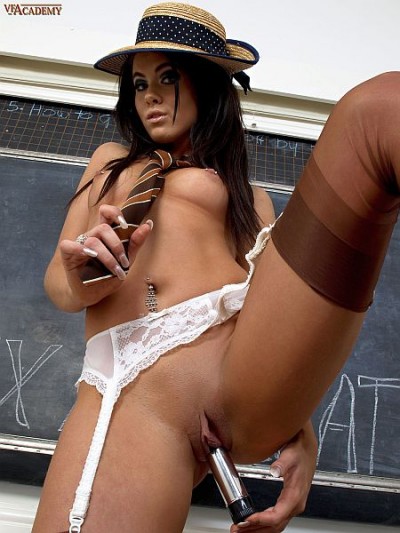 Lovely Lola is waiting in class up for a bit of extra sex-ed lesson, but no-one else has turned up. She's tired of waiting and feels a bit horny, so she decides to entertain us instead.
Lola loves her uniform and the way it makes her feel sexy, especially wearing those regulation full-fashioned nylons that all the girls are expected to wear.
Lifting her pleated brown school skirt, Lola turns and shows us her shapely legs in her chocolate coloured nylons. The dark seam runs up the back of her stockinged leg, and she lifts her skirt higher to reveal the white suspender straps attached to her stocking tops.
'I hope you're starting to rub your cock and get horny with me?' She asks, as she starts taking off her top. 'You haven't seen anything yet. Schoolgirls like me can get really, really naughty'.
Lola turns and slips her pleated school skirt over her white cotton panties, which cling to the shape of her pert little bum.
Stripping her knickers off, Lola gets on the desk and slides her vibrator up her tight pussy, encouraging you to wank along with her.
This sexy cutie has nylon legs that go right up to.. well, her peachy little ass! Watch Lola's private sex-ed demonstration, just for you in our latest video from VF Academy.
Get our superb Vintage Flash newsletter each week - all the latest model info, updates, set preview pics and more!