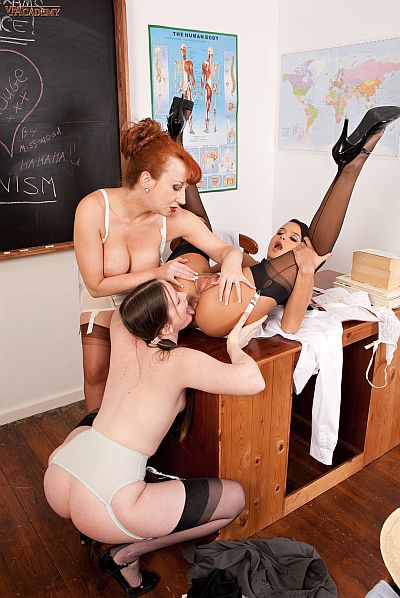 Top students Sasha and Vicki arrive at Ms Rouge's class for an extra-curricular lesson in sexual education.
Her star pupils have such good grades, she has decided they qualify for an advance lesson in 'Lesbianism'.
The lesson requires a practical demonstration, and she gets the girls to strip off their blouses and bras, so she can show them the basics. Ms Rouge is suitably impressed by their ability and enthusiasm as she observes them taking turns to lick each other's nipples.
Next she has them leaning over her desk and slipping off their skirts so she can inspect their school knickers. She's pleased to see they are wearing the academy's regulation see-though nylon panties, but still finds and excuse to spank their bottoms.
'A bit of playful spanking, that's an important part of lesbianism,' she tells them as she lightly spanks and feels their pert nyloned arses. 'Gets the juices flowing, if your understand my meaning.'
Deciding to give them a fuller demonstration of lesbianism, Ms Rouge undoes her blouse and gets them both to simultaneously lick and nibble her voluptuous titties.
Ms Rouge gets carried away by the actions her passionate pupils as they stimulate her nipples, and the girls seize the opportunity to turn the table on their teacher.
They strip Ms Rouge out of her clothes until she is left standing in her vintage satin girdle, seamed nylons and heels. Then pushing her over the desk, they laugh as they spank and cane her tight, girdle clad bottom.
Moving on to the next stage of the lesson, Ms Rouge demonstrates her oral technique on Sasha, then gets the girls to take turns at cunt, clit and ass licking each other.
It ends up in a three-way orgy on the desk, with both girls pleasuring Ms Rouge in her girdle and nylons and forcing her to orgasm.
Lots of cunt and ass licking in panties, girdles, suspenders and nylons in our latest outrageous movie at VF Academy.
Get our superb Vintage Flash newsletter each week - all the latest model info, updates, set preview pics and more!