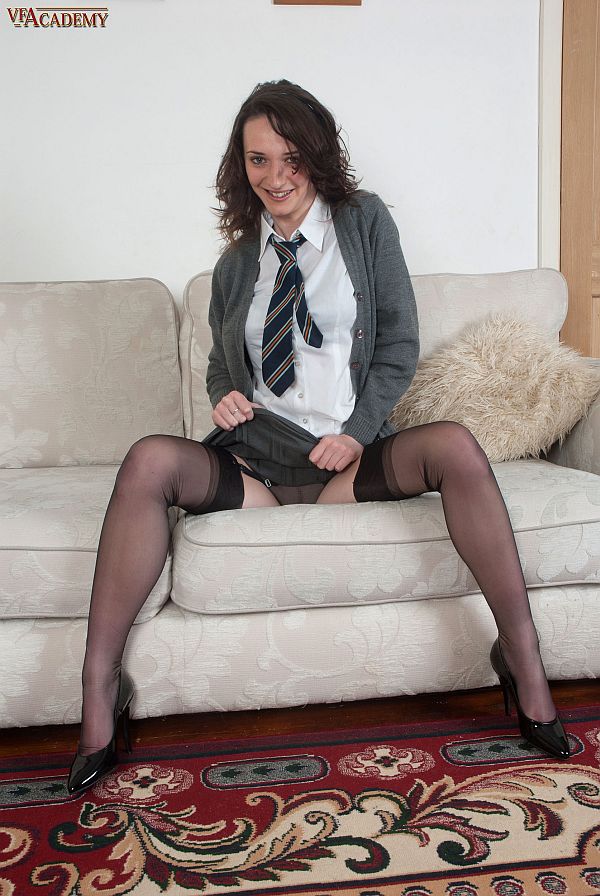 Kim has been at the academy all day and is now busy doing some revision at home, but she just can't concentrate on her work as she's feeling horny…
'I just can't get into this especially as you're here now, it'll be much more fun to have a play. I feel like having a good wank, I hope you do too!'
Kim opens her legs to give a view up her skirt and begins to rub the crotch of her sheer nylon panties, through which the trim pubic hairs and slit of her pussy can clearly be seen.
'Oh, I need a really good wank,' Kim says, pulling the crotch of her black panties to one side and pressing her fingers hard against her pussy as she masturbate, adding, 'I'm getting really turned on at the thought of you wanking with me!'
Kim squirms on the sofa and gasps with pleasure as her fingers massage the slit of her exposed cunt, all nicely framed by her black suspenders and the tops of her black nylon stockings.
After a while she stands and strips out of her uniform, first removing her skirt and letting it slide down her stockinged legs, then unbuttoning her crisp white shirt to reveal she is wearing a black bra.
Kim then turns around and hooking her thumbs into the waistband of her panties, she slowly tugs them over the cheeks of her ass and down her slender legs in their seamed nylons.
Having stripped off her bra, she rolls the nipples of her pendulous breasts between her fingers, squeezing the fleshy mounds with one hand as she continues to rub her clitoris and the juicy lips of her pussy with the other.
Reclining on the sofa she continues her masturbation session, taking time to play with her cunt and slowly building up her pleasure, which finally leads to her climax.
Get our superb Vintage Flash newsletter each week - all the latest model info, updates, set preview pics and more!